Voice Over-topia in Zootopia
It was not the usual, high-flying, fast paced, wham-bam trailer that we are so used to seeing on animation trailers. Zootopia's trailer was truly like nothing you've seen be-fur.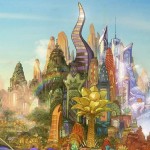 In the guise of an explainer video with the usual white backdrop, Jason Bateman gives an interesting narration about anthropomorphic means to both kids and adults, and what can we expect in Zootopia. Bateman's amazing narration sets up the comedic tone of the movie and also introduces the two main characters of the film by hilariously showing how the con-artist fox Nick Wilde (Bateman) and the by the book rabbit Lt. Judy Hops (Ginnifer Goodwin) will be at odds.
Disney has released unsuccessful movies with anthropomorphic leads, but the tried and true buddy cop premise of co-director Jared Bush (he worked on Big Hero 6) may work a different magic in your not-the-usual characters.
This may be Bush's feature-length directorial debut, but he would have a lot of help from Disney veterans Bryon Howard (Bolt, Tangled) and Rich Moore (Wreck-It Ralph), so this means it has enough reliable experience that makes us hopeful that the film can be as good as Frozen and Big Hero 6.
On the voice over front, if Jason Bateman is as great and full of life in this trailer as in the rest of the film, then it is truly a promising voice over-topia.
Bateman has done a few voice over work in some television series like in King of the Hill, Justice League Unlimited, The Fairly Odd Parents  , Sit Down, Shut Up, and as narrator for Growing Up Fisher.
It will also be interesting to hear how Gennifer Goodwin, Mary Margaret Blanchard/Snow White of the ABC hit Once Upon a Time, fairs in this movie. She has done various voice characters in Robot Chicken, and in an episode in Sofia the First and SpongeBob SquarePants
Columbian pop star Shakira recently revealed that she would be playing the character of Gazelle, the world of "Zootopia's biggest pop star." She also revealed she would be performing a song for the movie, "Try Everything."
Joining them are two Disney voice over actor favourites, Katie Lowes (who was in both Frozen and Big Hero 6) and Alan Tudyk, who will also be voicing in another much awaited Disney movie Moana.
Zootopia opens March 4th, 2016