UK Voice Talent Mary Jane Wells Scores Two Nominations at the Voice Arts Awards
British actress, writer and voice over artist Mary Jane Wells is nominated in two Voice Arts Awards this year.
Mary Jane has been doing voice over work full-time for four years after joining a voice over casting website and setting up her own studio. Since then that she has really been honing her career, as opposed to just booking and learning on the job.
But before all that, she has a whole life of being an actress and managing an audio company back in Scotland.
Mary Jane is a trained and seasoned actress, having studied Royal Scottish Academy of Music and Drama and done theatre for 12 years in the UK and Europe. And before coming to L.A., she worked  in the UK as a series recurring on BBC's Half Moon Investigates and narrated BBC3's TV show, My Childhood which won a Scottish BAFTA.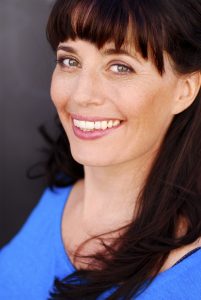 "I got started with a lucky break. My best friend's husband runs a studio called Red Facilities in Edinburgh, and made a demo for me. For a long time I was exclusively a theatre actress, and turned up when I was asked to record ADR for occasional TV work. Then in between acting gigs I managed Savalas, an audio post company in Scotland which then was in its nascence, and saw all the Foley, track laying and dubbing process, and I loved it! I could have followed this career then, but decided to do a solo show for a year and leave that secure, interesting everyday job to do the show and be an actress again – as that's really the beating heart of who I am. I promised myself that I would only go back to Savalas if I was in the booth. It took 2 years, but my first big VO job was voicing a documentary, and we recorded it all there. It won a BAFTA later that year."
"We carve such a painstaking, unpredictable path as creatives, and everyone's path is different but usually dogged, so these little triumphs feel huge to me, even now."
And what an amazing triumph it is for Mary Jane!
She is nominated for Outstanding Body of Work, Voiceover, and also for Audiobook Narration – Romance, Best Narrator for her work in Must Love Breeches in the Voice Arts Awards.
She candidly shared, "I never expected to get nominated! It's a self-submission process which felt
somewhat presumptuous for me – I mean there's Bill Ratner in there for goodness sake! It's a huge, huge honor and I'm blown away. And what a way to connect with those who frankly go way before me in the industry, and upon whose shoulders I get to stand."
Must Love Breeches is a 'time travel romance' and part of a romance trilogy by the talented Angela Quarles. There's no doubt Mary Jane is as equally talented and did fantastic work narrating this audiobook. Just hearing her speak about working on audiobooks is romance itself, "I love doing books as I often produce them now too, and get to work directly with the writer's creative process, which involves a very special handover. I did a paper on this at a Digital Arts Conference not too long ago. It involves such a lot of trust on behalf of the writer to let you voice characters that have been speaking to them for years. It's intimate – you get a clear, rare insight into why a writer needs to write that story, where it comes from in their gut, and when you are on this creative trajectory with them, you inevitably get to know them, and what part of themselves they are working with as a result."
Currently, she is busy with her other amazing projects – Holy Hell, a documentary wherein she works in a facilitative role as a story coach, and Heroine, a solo show that involves digital voice acting enmeshed with live theatre that she is bringing to Scotland and LA next year.
A lot of things to look forward to in the future for Mary Jane – and one she eagerly awaits in less than three weeks when SOVAS announces the winners for Voice Arts Awards, happening this November 13th.