Paddington Has Finally Arrived!
"The bear bent down to do up its case again. As he did so, Mrs. Brown caught a glimpse of the writing on the label. It said, simply, PLEASE LOOK AFTER THIS BEAR. THANK YOU."
― Michael Bond (A Bear Called Paddington, 1958)
After seven years since it was announced, Paddington Bear has finally arrived!
Back in 2007, Warner Bros and producer of the Harry Potter series David Heyman announced a live action/CGI hybrid film adaptation of Paddington Bear, from the much-loved children's book series of author Michael Bond.  So why did it take seven years? Producer David Heyman explains  that "it was a labour of love."  Heyman further explains, "Anyone who has read the Paddington stories – including me as I read them to my own son – knows he has solid values and firm views about rights and wrongs and decency.  He is a timeless character.  I have been really struck by how modern his story is, and how the humour crosses generations."   So it is just right that from his red hat, to his blue duffel coat and down to every strand of hair – Paddington had to be perfect.
The film production had a minor hiccup though after Colin Firth stepped down from voicing Paddington last June, 2014.  He felt he was not doing the role justice and suggested a younger actor.  Colin Firth was replaced by the 34-year-old actor Ben Whishaw a month after.  Heyman shared, "As soon as Ben's voice and Paddington came together, we really felt our bear was coming to life." And so, we finally meet Paddington.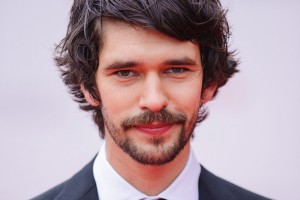 Ben Wishaw is an English-born actor known for his stage role as Hamlet and for his critically acclaimed Jean-Baptiste Grenouille character in the film Perfume: The Story of a Murderer.  He also played the role of Q in the James Bond film Skyfall.  Though Wishaw has done narration work for two documentaries, Teenage (2013) and Unity (2014), Paddington will be his debut role as a voice actor.
In an interview with Vue Magazine, Wishaw admits that he never really knew Paddington Bear, apart from carrying a suitcase and wearing a duffel coat.  And when asked about his take on Paddington's voice Wishaw shares, "The thing about the voice, is that the more I tried to do something other than my own voice, the less it worked. "  Wishaw ended up voicing the lovable bear as himself.
Wishaw also concedes that voice acting is much harder than he thought it would be, but it is something that he can see himself doing more in the future.  Wishaw shares, "It's been very fascinating.  There might even be more Paddingtons.  I think there's a potential there.  I feel weirdly close to the character.  I thought that I'd just be this disembodied thing of just voicing something.  But he's very endearing.  I think it's going to be great!"
Wishaw is joined by Downton Abbey star Hugh Bonneville (Mr. Brown), Sally Hawkins as Mrs. Brown, Nicole Kidman as the movie's villain Millicent, and Peter Capaldi.  Harry Potter stars Michael Gambon, Jim Broadbent, Julie Walters and Imelda Staunton as the voice of Aunt Lucy, are also in the cast.
Paddington opens in UK theatres on the 28th of November and for the US release, 16th January, 2015.