Is it Possible to Find Voice Over Work on Craigslist?
When most people hear Craig's List they often think, "Oh, that's the online destination to sell furniture your ex-roommate left behind". What's more, they also tend to think of it as being a place for creepy old pervs to solicit a sexual – or casual encounter – with hot girls, who often turn out to be other creepy old pervos or spambots. In fact, one might call Craig's List the Mois Esley of the internet: a hive of scum and villainy. So it would seem like the last place on earth for any seasoned voiceover artist to seek out paying work, right? Well, maybe not.
In today's automated world and with the rise of online casting sites, voiceover actors are flocking to the web in hopes of monetizing their craft. Increased accessibility, of course, means a rise in low-paying jobs. Or  what I like to call "dolla-a-holla" spots. Craig's List, more often than not, caters to a bottom feeding cadre of dilettantes and quasi-actors. Moreover, the type of people who haven't a modicum of experience, training, or professional quality mics.  Furthermore, if you asked them what the difference between mono and stereo was, their eyes would flash vacancy lambently.
As such, a major portion of voiceover jobs on Craig's List tend to be embarrassingly below industry standards, and some even offer no pay at all. Rather, you'll often encounter ads that include the notorious claim of future work, or copy and credit. You get the point. Avoid these like the plague, and if you care about the art form, flag the living hell out of them. If you have some free time and the ad is really despicable, feel free to post your own ad in response to that ad in which you (viciously) school the poster:
Here's an actual and unaltered Craig's List VO ad that was discovered by John Miles, of John Miles Voiceovers:
[box style="0″]
Director in search of Voice Over Actress for Great looking Short film tomorrow in mid-town studio bet 3-5p. The Original actress is unavailable and we want to release this within the month. We are looking for a youthful ( mid 20's ) and sexy voice. We have a great post house ready to let us do a few hours ( which should be more then enough). The movie is 90% done. Only missing V.O and color correction. This is for credit and $50. Please respond with headshot, voice sample and contact info
it's NOT ok to contact this poster with services or other commercial interests
Compensation: $50
[/box]
Okay, so this poster probably doesn't know that voiceover is a difficult – and expensive – skill and not McDonalds. But before you go impugning the entire site and wringing your fists in fury like Spock, there are actually some decent paying and legitimate postings as well. You just have to be vigilant and patient, which can be a time-suck.
Yours truly has managed to book high paying voiceover jobs in a variety of genres used for web, radio and film. Now obviously these were non-union jobs, but they all offered pay commensurate with the current VO Rate Card and often led to repeat work. Oh, and they provided proverbial reel. So before you start groaning and grumbling at the idea of Craig's List being a legit outlet for professional voiceover work, take a glance at this LA-based posting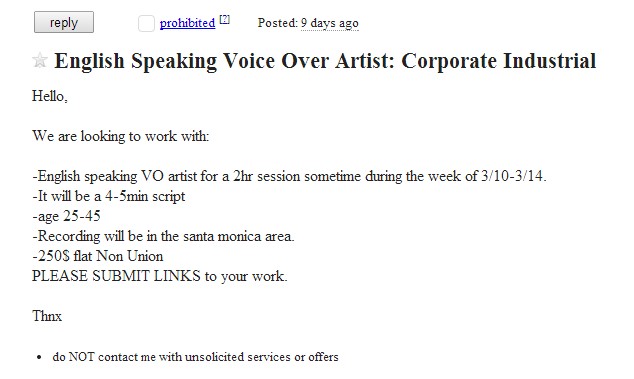 Now unfortunately this gig wants someone local to LA who can come to their studio and record, but you'll find a majority of work can be performed remotely for those with pro recording capabilities. That's another thing: most VO Artists now have to be sound engineers as well as talent, therefore they have their own studio/editing capabilities. This means that said talent doesn't just have to search for VO work in LA and NYC, but all over the country. That's right, the hinterland has a lot of regional work to offer and at fair pay.
In the end, most seasoned talent does better seeking out work from reputable online casting sites such as The Voice Realm, but Craig's List does have a little but more than just dolla-a-holla and sloppy seconds. Like everything else in today's ever increasing pool of entertainment, you just have to look for it and use caution. And you know the drill: if the ad has $$$ or is in all caps, flag like there's no tomorrow!