Which Portable Recording Booth Should I Buy?
Are you trying to build your home studio but you don't have the space or the budget?   And applying inexpensive treatment to your walls is out of the question (maybe you are renting,  it's your bedroom or a corner of your living area.)  Any serious voice artist would never want to compromise recording quality to aesthetics, space or budget so you may want to consider buying a portable recording (vocal) booth to answer your space and budget dilemma.
Why is a recording booth important? 
The basic reason why you need a recording or vocal booth is to have a soundproof environment whilst you record your voice.  Insulating your work environment will prevent any loss of sound from within your studio and also maintain external distraction or disturbance at a minimal or even at a zero level.
A decent and inexpensive portable recording booth should be able to do three main things:
Deaden the sound.  Your recording booth should use some kind of sound dampening to deaden the sound; this means that it cuts out low and high frequencies that can be distracting to your audio recording.
It should reduce echo.  Some mics can pick up everything, which means even the ambient noise.  Your recording area if not treated with sound dampening can produce an echo.  An echoic voice recording makes you sound unprofessional, so your recording booth should be able to prevent too much audio from bouncing or reflecting back.
Create clear sound.  As sound wave lengthens and bounces off on many surfaces as it travels, recording in an untreated room will create a distracting audio.  A recording booth creates a smaller space which results to a clear and true tone.
In a product review on portable vocal booth and screens made by Sound on Sound states that, "(an effective) portable booth can reduce room reflections by absorbing the sound before it can escape into the room, though they also prevent some returning reflections from reaching the microphone.  Because the screens are designed to be placed in close proximity to the microphone, these reflections will arrive very shortly after the direct sound, and will thus be audible as coloration of the wanted sound rather than as reverberation or echo. The concave shape of most screens risks amplifying this effect through acoustic focusing."
---
Here we list four of the most recommended portable recording or vocal booths.
Price:  $349.00 / $189.00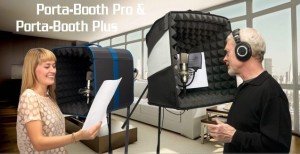 Porta-Booth is not only good for small home studios but also for those who travel often.  This space saver uses the same Auralex Studiofoam as used in most major recording studios and provides a professional quality sound preventing the 'boomy' sound of an untreated room.   The Pro, is more expensive than other portable vocal booth or screens, but it boasts to be a sturdier audio booth and can accommodate a much larger variety of microphones.  It also assembles in less than a minute and comes with a carrying case.
Price:  $249 – $399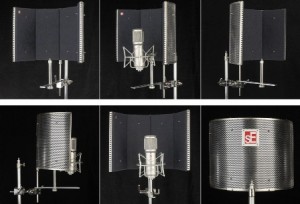 sE Reflexion Filter Pro portable vocal booth and reflection filter set up that uses a patented multi-layer technology.   They boast of removing ambient noise and adding "polish" to the recording.  Reviewers comment that sE Reflexion Filter Pro does exactly what it claims, however may not work well for all volume or frequencies because of the small size.
Q-Mic QM-200 Vocal Booth
Price:  $139.00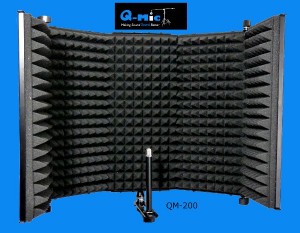 QM-200 is a compact vocal booth aims to solve echo and other noise problems.  It is foldable and easy to transport.  It eliminates reflections from the front and sides, giving you a more acoustically dry sound that is better for audio recording. If you are recording in a room with hard floors, flat ceilings, and naked walls, you will still want to throw down some moving blankets and make sure there isn't a flat wall right behind your back.
Post Audio ARF-27 Folding Portable Vocal Booth & Reflexion Filter
Price:  $109.00 – $160.00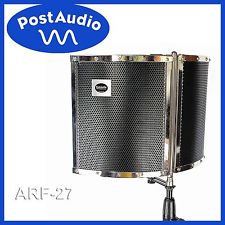 ARF-27 is the latest from Post Audio that with a full-sized reflection filter that is foldable and easy to store.  It has a 2 inch acoustic foam and stainless steel diffuser.  It works well in isolating sound and recording dry demo even when used in a big open area.
A portable recording booth can never replace a proper room treatment, however if reviewed and chosen carefully, it is the best solution for your space problem without breaking the bank and of course sacrificing sound quality.
---
Do you use a portable recording booth?  Share with us your recommendation.