The Peanuts Gang is Coming!
Christmas is never complete without sitting in front of the television and relish the warm fuzzy feeling this precocious gang makes everyone feel.  Charles M. Schulz made Christmas extra special since the debut of A Charlie Brown Christmas on 1965.
Christmas 2015 will come a little early for the legions of Peanuts followers with the first feature film after the last original Peanuts strip, as well as the death of creator Charles M. Schulz, is set to be released on the 6th of November, 2015.  And this week, we were given a little glimpse of the magic that everyone has been waiting for.
20th Century Fox and Blue Sky Studios did not disappoint.  It was a lovely marriage of classic Charles M. Schulz hand-drawn art and CGI technology.  It is like the comic strip coming to life.
True to their word, Director Steve Martino and his team was able to "track down the idiosyncrasies of the hand-drawn feeling."  In an interview with the Washington Post, Martino says, "We want to bring the magic of his (Charles M. Schulz) pen into this (CGI) world… his hand-drawn warmth… into the cool pixel-precision of CGI."  And judging from this two-minute trailer featuring the wonder beagle Snoopy and Woodstock, they definitely delivered.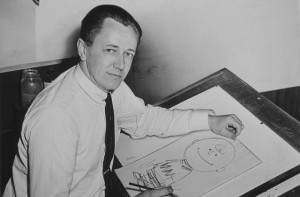 Martino shares little about the storyline, "Here's where I lean thematically.  I want to go through this journey… Charlie Brown is that guy who, in the face of repeated failure, picks himself back up and tries again.  That's no small task.  I have kids who aspire to be something big and great… star football player or on Broadway.  I think what Charlie Brown is – what I hope to show in this film –  is the everyday qualities of perseverance… to pick yourself back up with a positive attitude – that's every bit as heroic… as having a star on the Walk of Fame or being a star on Broadway.  That's the core.  This is a feature film story that has a strong dramatic drive, and takes its core ideas from the strip."
---
The creators and producers have yet to share who will be the voice cast of the most awaited film.  However, this we know… Bill Melendez, famed director of four Peanuts theatrical films and voice artist for both Snoopy and Woodstock will still be part of this film through the use of Melendez' archival recordings.
Since most of the voice actors in the last television special Happiness Is a Warm Blanket, Charlie Brown released in 2011, are all still young voice actors, it is fun to conjecture that they may still be part of the latest feature film.  Martino shares only this about the cast, "It will follow the same thing that was done on the first Christmas special… (with) the charm of kids' voices.  With Linus saying something philosophical and very adult coming out of a voice of someone so young."  Trenton Rogers who voiced both Charlie Brown and Schroeder, Amanda Pace (Sally Brown), Grace Rolek (Lucy Van Pelt), Austin Lux (Linus Van Pelt), Shane Baumel ("Pig-Pen"), and Ciara Bravo (Patty) are all still in their teens but will they be able to pull-off voicing the young comic strip characters?
But doesn't the Charlie in the 2011 Peanuts special sound like the Charlie in this teaser?
---
Producer Craig Schulz and Director Steve Martin shared in a previous interview with USA Today what avid Charles M. Schulz and Peanuts fans can expect in this movie.
Director Steve Martino says, "We're going to fly with Snoopy in his fantasy world.  We have a bigger canvas.  Bill Melendez got Snoopy off the ground in the TV specials. We're going to take it a step further."
Producer Craig Schulz says, "We knew we wanted this movie to be bigger than any kind of TV special.  To do that, we had to kind of go to the boundaries of where I would ever let anyone go in the Peanuts world."
"There was the fur on Snoopy, and you could feel the texture and the way the clothing moved."  Craig Schulz says. "I was with my family members, and it brought tears to their eyes when they saw the trailer."  We can bet that the millions of followers of Charlie and his gang are all anxious to be moved and touched by this almost tangible Charles M. Schulz magic.