Darren Altman – Voice Over Artist, Impressionist and The Next…
Few weeks has passed since the return of Britain's Got Talent for its 10th season, but one of the more memorable auditions still remains to be that of Darren Altman from the premiere episode.
At the end of his performance, the audience and the four judges were on their feet, and to top that, he even got a rare compliment and a great review from Simon Cowell.
So who is Darren Altman, the man of many voices?
Darren Altman is a drummer. After studying at various music colleges in England he started taking gigs around the world playing with different pop, jazz and Latin bands. He also recorded music for film and television.
Darren Altman is a voice over artist. In around 2005, he made a crude show reel and got his first agent off it, from there his career in voice over started. He got asked to do a lot of radio and television adverts. He played and developed characters for computer games, apps, animation and cartoons. He did various projects as voice for web videos, promos, documentaries and as Voice of God (live events announcer).
Darren Altman is an impressionist. Always has been. As long as he can remember he would impersonate teachers at school and friends. His good ear and his skill in impersonating landed him various voice over projects for numerous clients… and quite recently landed him on the Britain's Got Talent stage.
And so we asked…
What inspired you to join Britain's Got Talent?
You only get one chance in life and I wanted to throw myself out of my comfort zone and try something I'd never done before. The opportunity to enter was too good to pass up.
How was the experience like – the waiting and then finally being on the stage, in front of everyone? What was going through your mind?
Unlike a lot of the acts that go on BGT I'm not an entertainer and haven't been gigging for years, perfecting my act so to speak, so my nerves were through the roof!
It's one thing doing impersonations and character voices in my booth, but another performing in front of 3000 people at The Dominion Theatre in London and Simon Cowell! I think that the television audience peaked at 10 million and it's since been aired in New Zealand. No pressure!
You had a brilliant material, intelligently made – how did you come up with that idea?
It was based on a video I recorded in my booth a few years ago, a deconstruction of celebrity voices – how they are made up and the things I look for when doing impersonations and indeed characters.
Did being a voice over artist help in any way in your material, in your performance?
Definitely! The way I work and study voices and celebrities is key to making them as close and as realistic as I can. I've studied with some amazing coaches and all their material and techniques are in there. You have to break down a lot of elements both vocally and physically in order really nail a voice and personality.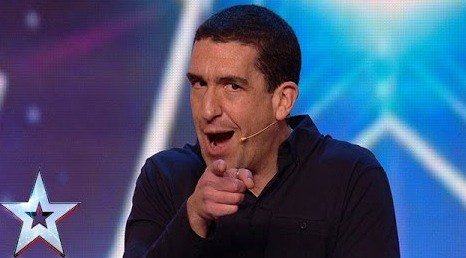 The audience judges' and standing ovation; David saying you were brilliantly funny from start to finish; Alesha – "Every impression was spot on"; Amanda says, "It was very intelligent and different"; Simon, "This is the best and most original act." That must have been pretty mind blowing.
To be honest, when I finished the act and the whole audience and judges stood up, it was a bit much to take in. But one thing I can tell you was that the relief was incredible! I'd done it! I didn't mess up and it went well. The adrenaline rush I got from it was nuts!
You had to keep this as a secret right till it was shown? Who was in on the secret?
I told a couple of close friends and my Mum! I kept quiet about the whole thing for a few months, so when my audition finally aired, the reaction from friends and family was incredible.
Did you watch it with your family and friends once it was shown on TV?  Watching back and hearing the off the mic comments of the judges, hosts and the reaction of the audience, what were your thoughts?
Funny you should ask that. I was just going to watch it with my wife and girls, but someone suggested having friends round. So I invited a few of friends and their families and we made a night of it! Lots of food and drink! The Facebook messages, texts and tweets came flooding in afterwards as I hadn't told anyone, which was funny!
So what can we expect next?
(…. Mum's the word)
Darren Altman, Britain's Got Talent's Best Act for 2016… We will definitely have to watch and see.