What is the Best Microphone for Voiceover Work?
There is an overwhelming number of microphone options you can choose from but one has to be smart with picking one of the most important equipment a voiceover talent would need.  You can't buy a mic based on its looks, or just because it is expensive (or less expensive), choose one that matches your requirements.
High-end models typically used in professional studios would cost thousands of dollars but boasts superior quality features.  However, there are also alternatives, from low to mid-range cost that can still provide professional grade recordings.
Below, we have compiled the top 5 microphones recommended by voice-over talents, studios and tech sites. We've also found the best rates online where you can purchase each microphone.

We start the list with Sennheiser MKH-416.  The Sennheiser MKH-416 is the more expensive option in this lot, with price ranging from $1199 to $1299.  It is a shotgun mic commonly used in professional studios and television sets.  It's directional so points directly to the voice and it is very good in feedback rejection.
What users like about it?                                                                                
Great sound quality
Durable
Lightweight
Easy to use
Best price we have found on the MKH-416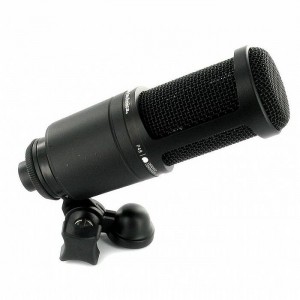 Audio Technica AT2020 is a cardioid condenser microphone.  Price range is around $100 to $150, making it a cost effective professional quality condenser mic.  It is recommended for voiceover work as it gives a rich, round and commercial sound similar to what you will get from a large diaphragm condenser mic.
What users like about it?                                                                                
Compact
Good audio
Easy to use
Lightweight
Versatile
Here's the best price we've found for the AT2020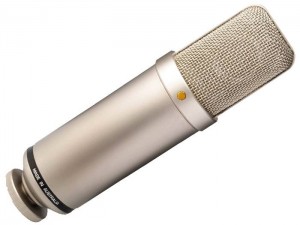 Another microphone option is the Rode NTK.  Normally tube mics cost about $3000, Rode NTK is the less expensive model of its kind, priced at $529.  It is large-diaphragm condenser mic that gives a warm sonic character.  It can take the beating for loud recordings without distorting the sound.
What users like about it?
Durable
Good audio
Versatile
Compact
The best price we could find online for the Rode NTK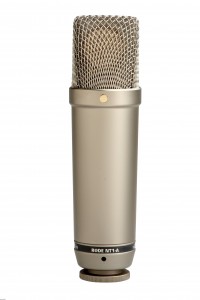 In almost all lists you will find the model Rode NT1-A.  Priced only at $229, makes it a perfect first voiceover mic.  It is known as a flat mic because it is one of the quietest on the market.  This neutral sounding mic is best for recording vocals and provides high quality voiceover recordings.  A no ring resonance and similar frequency response to other voice talent microphones.
What users like about it?
Good audio
Easy to use
Versatile
Durable
Lightweight
Here's the lowest price on the Rode NT1-A we could source.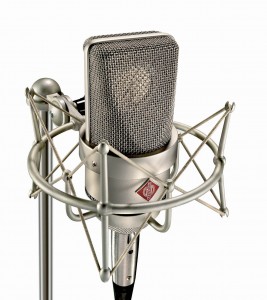 Neumann TLM103 is the less pricey sibling of everyone's favourite, Neumann U87.  Priced at about $1,099.95, it addresses the voiceover need to have Neumann quality microphone without breaking the bank.  Though still less flexible than a U87, it still has a broad range and perfect for professional broadcasters to the more demanding home studio needs. What voiceovers love about this mic is its ability to pick up every nuances of the voice, and not just the prominent sound.  This diaphragm condenser mic, like any high-end mic, can be very audio sensitive.
What users like about it?
Durable
Great sound quality
Easy to use
Compact
Versatile
The cheapest price online for the Neumann TLM103
There are also accessories that you need to consider buying along with your microphone to record quality vocals like widescreen, shock mount and reflection filter.  Ultimately, unless you give your vocal booth or studio the proper room treatment or equip your system with a good recording software you are unlikely to truly benefit from any great quality microphone.  It may hurt the pocket at the start, but the rewards are sweeter once you start recording professional quality voiceovers.
What microphone do you use?  What do you like about it?  Would you recommend it?