The All-Around Artist Joe Wakeford
A producer at a young age of seven!  What started as a fascination, turned into a fulfilling career.  Joe Wakeford is one of those few who knew what he seriously wanted to be when he grew up – lucky for us, it's with the voice and audio industry.  Voiceover Herald had a chat with Joe to learn more about the artist and pick his brains about the industry.
VOH:  How did it all start?  How did you discover you have the talent in voice acting?
JOE:  I grew up in a very musical family.  We had guitars, drums, keyboards and all sorts around my childhood home. This included recorders of varying vintages.  I remember recording my own 'radio show' on one of the tape decks with another player running the jingles and a record player playing the music.  It was pretty sophisticated for a seven year old!  I'd then pass the cassette around to neighbours to listen to.  One Sunday afternoon my Mum came in to call me for dinner and I remember getting cross that she'd interrupted the recording – she explained what the pause button was and that coming back shortly after, even hours after, would have no effect on the final output so much that you'd never even notice the join in the final production!  This triggered my fascination in the production process and I've since been into recording via every possible medium I could lay my hands on.
From those early days with the tape machines I'd love how an image could be created solely with the power production – a lesson I taught myself but which has been invaluable over the years.  Here at our pro music studio we produce music for film, TV, theatre as well as pop artists and everything in between.  In 1998, my first voiceover project was for a BBC radio station in England.  I also produced the music and a few jingles.  That led to my own radio training and subsequent weekly local radio show in the sound of England interviewing music personalities and grilling them on their production techniques. It was an extremely enjoyable time and many new lessons in production were learned along the way.
VOH:  Is there anyone whom you look up to as a mentor or an influencer in your career?  What is the most invaluable lesson you have learned from that person?
JOE:  There are a ton of voiceover artists I enjoy listening to, one notable example is Rob Brydon whose skills outside the field are far reaching and wonderfully interlinked.  His writing style, production skills and comedic timing all lend themselves to voice acting.  Being flexible, happy and confident in any situation are important characteristics for being able to present a script convincingly under sometimes fraught conditions with tight deadlines.  Being able to sight-read a script, whether it's a single line product slogan, with or without a character voice, indeed an audiobook or medical tutorial, is something that comes only from doing it again and again with interest and excitement – treat each script as if it's your first, or even better, as if it's your last.  Make every word count.
VOH:  Would you care to share with us your latest project?​  What's your most memorable project you have done so far?​
JOE:  With so many projects every week asking me about my latest project is difficult – I tend to read the script, record, edit and send it to the client then move on or go and do something entirely different.  Life is quite busy here but I enjoy every moment.  I think it's important to have broad interests as it's easy to become stale and jaded if you do the same thing all the time.  Fortunately with voice acting almost every job is completely unique, but most have similarities and at least the same work-flow and potential challenges.
An exciting occasion was when I voiced a character for a Madame Tussaud's attraction in Hollywood.  I am now a king on the search for his daughter, the princess.  If you're in Hollywood check it out!  I was given a general script with a monologue and various in-attraction lines along with some CGI animated scenes of the king to help with my characterisation.  It was a lot of fun to record as I secretly love recording my convincing elderly gentleman voice.  In the corporate sphere, one of my favourite projects was becoming the voice of Skype promotional material.  When I received the script from the production company I had no idea who it was for but I was sent the final production and there I was all over their website and in help tutorials.  As an enthusiastic photographer I was excited to be involved with Toshiba's high-end memory card TV advertising material. I regularly voice for Cisco, MasterCard, Chevrolet, Samsung, HP, Absolut Vodka, Carlsberg and UK insurance company Admiral Insurance.
VOH:  What do you enjoy the most about the industry?
JOE:  The flexibility of working for yourself is a huge plus.  Deciding when and sometimes where, you work makes life much more relaxed than usual office hours.  My voiceover colleagues are all in the same boat and we often meet up and help each other with projects – it's a friendly and supportive community. Every day presents a new challenge and something else to be amazed by, it's an industry that never gets old.
VOH:  On a different side of Joe, you mentioned earlier your interest photography.  Is this serious photography work or more of a hobby?
JOE:  I love taking photos and have built up quite a collection of pro gear.  Living in Prague, Czech Republic, I'm surrounded by beautiful architecture and stunning landscape scenes without even trying to seek it out.  I enjoy capturing the emotion of the city and the people in it.  I try to keep it as a hobby (albeit a time consuming and expensive one!) but my work can be seen in various places online and I'm pleased to be closely working with Prague City Tourism boosting their social media campaign.
VOH:  What else do you love doing outside the voice and audio industry?
JOE:  Aside from voice work and audio production we run a couple of other businesses put together with a great team.  Also in my spare time I'm a drummer in a party band called tram69, playing in corporate functions, events and wedding parties around Europe. I try to reserve this gig as my relief from the business world and while we're professionals and take each performance extremely seriously I have a lot of fun with the guys and use it as a way to put the other madness in my world to the back of my mind for a few hours.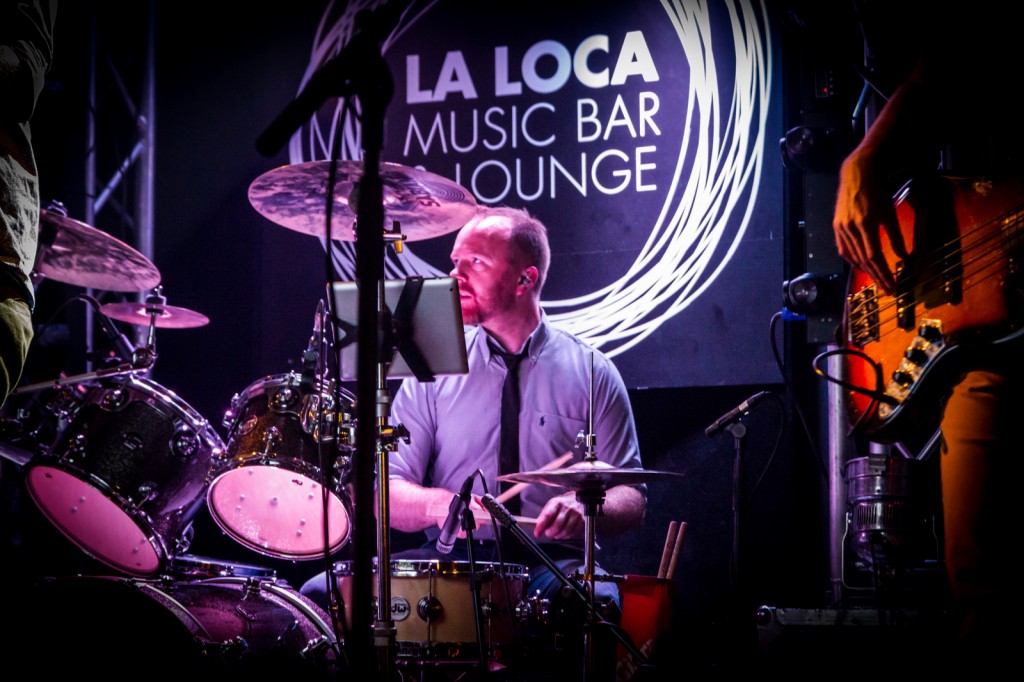 VOH:  You have your own professional production studio, but what do you think about voice talents having their own home studio.  Is this something you can recommend or using a commercial recording facility is still the better choice?​​
JOE:  Setting up a home studio can seem daunting but it's the only way to offer clients the rapid turnaround they need as opposed to traveling to a studio and incurring time and additional costs there.  Studio projects, however, are fairly common and projects often require you to be in a certain place at a certain time with a specific producer and director.  Be prepared to travel, although this will be covered in your fee.  I'm fortunate to run our own studio here which means I've everything on hand at a moment's notice.  If, however, you've not built something like this up over the years it's possible to start out with a good microphone and editing software.  Make sure you have a pop shield to minimise plosives (the letter 'p' in words) and sibiliance (the letter 's' in sounds) and treat your room adequately to reduce and, in a perfect world, eliminate room sound.  Production companies understandably require a clean, edited and professional recording… you need to be that guy (or gal) who can do it.
VOH:  Are you a member of any voiceover platforms?  How is the experience so far?
JOE:  I'm a member of The Voice Realm and my experience has been positive with rapid client support when needed.  They have a good project screening, pre-booking systems and, more importantly payment is prompt.  Everyone on the team is friendly and supportive which is vital in this industry where often you're holed up in a padded room for a lot of the day!
VOH:  Can you recommend resources or training a serious voice actor should read/take to help them improve in their field?
JOE:  I took the long route and went through radio training at hospital Radio Lion in Guildford, Surrey, UK, then onto my own show there followed by a commercial radio show and much later an online podcast for a year.  All these things refined my microphone technique, my improvisation skills and the general feeling of being comfortable in front of a microphone and hearing your own voice (sometimes again… and again… and again!).  If you'd like a comedic snapshot of the life of a voice artist, then Channel 4's 'Toast of London' does a wonderful job summing up what can occasionally be a strange old job.
VOH:  You are a multi-faceted voice actor, no I should say Artist – with music, voice acting, producing and even photography under your belt, so where do you see yourself taking your career in the next 3 or 5 years? 
JOE:  I'm extremely fortunate have been doing what I love since I graduated the Academy of Contemporary Music in 1998.  To continue building our business ventures, the music production side and my voiceover path is the aim.  In the voice industry I'd like to land some more TV commercials and continue to further the regular client work.  It's funny when I go back to England and hear my voice on TV or radio, quite a spooky experience!  My assistant often lets me know when she has heard me somewhere. It's a surreal feeling. 
VOH:  Just from our chat, you seemed to be a very good coach, is this something that you have been doing now or maybe looking into doing in the future? 
JOE:  I'm happy to answer any questions beginners have and I have helped my assistant Rebecca with this, from technique, equipment purchase to how to edit a recording.  She too is now into voice acting and recently launched her career.   I'm proud of what she has already accomplished – her first job was in a London studio recording a thirty-second national radio advert.  A baptism of fire!  Right now though taking on another business role is not something I have much time for but I'm always on hand to help if someone is friendly and smiley!
VOH:  Final word Joe.  What advice can you give to a budding voice over?
JOE:  Voice work takes time to build and being noticed can be difficult.  I'd recommend voicing as many scripts as you can in your spare time – from one-liners to long-form articles.  Record them and listen back.  Find your field of interest or what niche you're most comfortable at voicing.  If you're hearing your own breaths then take time to find out where you can pause between words and sentences, don't rush, and learn to minimise the audible breaths.  Ultimately you will need to edit out any breaths from a professional recording if there are any.  Mastering editing skills are massively important as you can help production companies avoid the expense of a pro studio and additional producer. Buy the best gear you can afford but try demoing scripts before shelling out over £500 on a microphone. Listen to advertisements, listen to radio shows, and listen to online training modules.  You'll notice certain traits and these can really help you out.  Find online communities for voice acting and get involved!  Twitter is great for hooking up with people of a like-minded skill set in whatever country you're in. And most of all enjoy it!
It is always great to hear from passionate and multi-talented voice actors like Joe Wakeford.  It really is about the love for the work, your desire to learn and just enjoying what you do that makes a difference in making it in this industry.
If you wish to listen to Joe, visit his profile for a free audition or direct hire.