Voice of SpongeBob Sends out a Loving Message to a 9-Year Old Boy with Cancer
There is something innately lovable about SpongeBob Squarepants and it is not just because of how he is characterised in the series or the big screen, but also because the man who lends him his voice is genuinely endearing himself.
Tom Kenny, who has been the voice of SpongeBob Squarepants since the series premiere back in 1999, is known to help out suffering children whenever he can.  Recently, Kenny and his friends recorded a special message for a 9-year old boy suffering from cancer.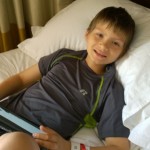 Julian Ross of Oswego, is diagnosed with stage four neuroblastoma, an advanced form of cancer.  Julian is an avid fan of the cartoon series and part of his bucket list is to be able to watch the latest movie release of the lovable Bikini Bottom characters.  With the help of Lollipop Theater Network, Julian who was too fragile to go to the theatre was able to watch the movie at his home.  He was also pleasantly gifted by Nickelodeon with a care package full of SpongeBob merchandise and of course the loving message recorded by the cast and engineers of the series.
According to Syracuse.com, Kenny learned of Julian from relatives in Central New York. It was perfect timing to learn of Julian's situation as he and some of the cast, and creator Steve Hillenburg were scheduled to be in the studios.  In the interview with Sean Kirst of Syracuse.com, Kenny said, "Everyone was very affected by this." And the cast, including Bill Fagerbakke (Patrick), Rodger Bumpass (Squidward), Clancy Brown (Mr. Krabs) and Carolyn Lawrence (Sandy), were happy to help out. "Anything you can do to help a fellow traveler, it's a privilege to be able to do it," Kenny continued.
Kenny also very humbly claims that it was an honor to be able to have an opportunity to help.  As he states, "it is one of the amazing, unpredicted side effects of this job." He also shared that he was inspired to create the audio by "people who are graceful and noble in the face of unimaginable difficulties. If SpongeBob could make someone going through something really hard smile for a couple of seconds, and if the family gets to smile at the sight of someone smiling who hasn't smiled all that often."
Julian's mother Kristi Thompson is grateful for many things, including the chance to see her son smile again whenever the boy hears his name spoken by SpongeBoB, but for Tom Kenny, Julian did him the favour.