USB Microphones for the Voice-Over Beginner
There are different kinds of microphones that voice-over talents use for their recordings.  These are:  USB Microphone, Dynamic Microphone and Condenser Microphone.
Condenser Microphone is commonly used in studios.  It gives a clear and smooth vocal recording and also creates a rich and textured sound good for voice-overs.   It is also commonly picked for studio use because of its sensitivity to loud sounds but generally has a louder output.  A Dynamic Microphone as the name suggests, is fit for active use so you would often see it used in radio broadcasting or on stage.  It is versatile but more suitable for handling high volume levels.  Technically, USB microphone is not a new kind of microphone but it just utilises USB to plug the microphone directly to your computer and mimics the qualities of a condenser or dynamic mic.   It can capture an above-average sound and is also less expensive compared to condenser and dynamic mics making it ideal for voice-over beginners.
We've compiled the top USB microphones recommended by voice-over talents, studios and tech sites.

"The RØDE Podcaster is a dynamic, end-address USB microphone that combines broadcast-quality audio with the simplicity of USB connectivity, allowing recording direct to a computer without the need for an additional digital interface. The Podcaster is ideal for podcasting, vodcasting, YouTube videos, voice recognition software, corporate videos and any production application that requires a simple yet professional voice-over microphone."
Get the best price that we've found on a Rode Podcaster.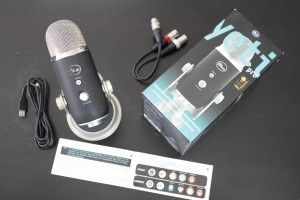 "The Yeti Pro is the world's first USB microphone combining 24 bit/192 kHz digital recording resolution with analog XLR output. Featuring three custom condenser capsules and four different pattern settings, the Yeti Pro can capture digital audio with up to four times the clarity found on CDs. Plus, the Yeti Pro features a cutting-edge A-D converter chip and separate analog circuit path for use with professional studio mixers and preamps. You also get a built-in headphone amplifier for zero-latency monitoring, and direct controls for headphone volume, pattern selection, mute, and microphone gain. So whether you record at home, in a studio (or in the Himalayas!), the Yeti Pro is your ultimate sound solution"
 The best rate we've found online on the Yeti Pro – Platinum Edition
Blue Microphones Snowball USB Microphone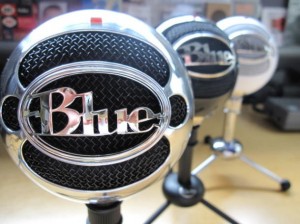 "The Snowball was designed to provide a wide range of applications where a high-quality transducer (a fancy way to say microphone) is needed, but so is ease of use and setup. Though most professional engineers prefer certain microphones for certain applications, we designed The Snowball for use with a wide variety of sources. Here are some suggested applications:  instrument and voice for music production / pre-production / demos, DV-looping / dialog, podcasting, sound effects, audio sampling, interactive programming, video sweetening / post, internet telephony, internet conferencing, recording lectures, poetry slams, spoken word performances and speeches by your favorite politician– generally anywhere where you need an easy-to-use microphone and you have access to a computer with a USB port."
Here's the best price we have found on the Blue Snowball USB microphone.
Audio-Technica AT2020 USB Condenser USB Microphone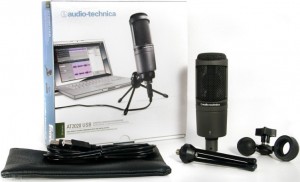 "Side-address studio condenser with USB digital output (Windows and Mac compatible).  Crystal-clear, natural sound for podcasting, home studio recording, field recording, and voiceover use.  Custom-engineered low-mass diaphragm provides extended frequency response and superior transient response.  Cardioid polar pattern reduces pickup of sounds from the sides and rear, improving isolation of desired sound source.  Low self-noise – perfectly suited for sophisticated digital recording equipment.  Includes tripod desk stand, pivoting stand mount, USB cable & storage pouch."
Best rate we could find for the AT2020 Condenser Microphone.
Before deciding on what USB microphone to purchase, it is best that you do further research for that mic that does not only fit your budget but more importantly best compliments your voice when recording.  An informed decision is not based on how cool it looks, or the price, but rather on the one that matches your requirements.