The History of Voice Over through the 1900's
The ship wireless operators for the United Fruit Company, who called themselves Sparks, along with the US Navy had only heard Morse codes coming through their headphones. But on the Christmas Eve of 1906, they heard a human voice singing "O Holy Night" with violin accompaniment and afterwards reading a passage from the Bible. This was heard by ships along the Atlantic northeast coast and from shore stations as far south as Norfolk, Virginia. A repeat broadcast was heard on New Year's Eve as far south as the West Indies. The voice belongs to Reginald Fessenden, a Canadian inventor and mathematician who was responsible for establishing the first transatlantic wireless telegraphic communication. In the history of voice acting, he is considered to be the first.
The second voice acting performance was done by Walt Disney, who, while second in the voice acting history, was the first to give life to a cartoon character named Mickey Mouse in the animated movie, Steamboat Willie in 1928. Using Walt's own voice, Mickey Mouse came to life for the first time with a synchronized voice. With Walt as the voice of Mickey, it premiered to great success and many more cartoons followed. The following year, in 1929, Looney Tunes premiered in cinemas. It was the first cartoon series produced … and the rest is history.
However, according to research by voice actor Scott Reyns, voice acting really started way back in the 1860s when Parisian typesetter/librarian Edouard-Leon Scott de Martinville recorded on a phono-autograph a woman singing the 18th century folk song "Au Calir de la Lune". Then, in 1877, American inventor Tomas Alva Edison makes a recording of his recital of "Mary had a Little Lamb" on a phonograph, the first device capable of playing back a sound upon recording. More than a decade later, in 1890, New York produced its first ever Puppet Show which was then watched by more than 3 million people and a few years later, in 1893, Henri Lioret unveils the first talking toy, powered by a phonograph mechanism in its torso. The doll plays back 35 words, sings and tells stories, when its torso is pressed.
It was only after this time, in 1906, when Reginald Fessenden made the first ever radio audio broadcast. Let's take a look at how these legendary personalities contributed to the birth and growth of the voice over industry.
Reginald Fessenden was born in October 6, 1866 at Milton, Canada (now Quebec, Canada). He studied at Trinity College School in Port Hope, Ontario and at Bishop's College in Lennonxville, Quebec. He developed an interest in science that led him to move to New York City and in 1887, went to work for Thomas Edition at the new Edison Laboratory in West Orange, New Jersey. After a couple of jobs with electrical companies, he turned to an academic career as professor of Electrical Engineering at several universities and then at the Western University of Pennsylvania (now University of Pittsburgh) where he received funding from the Westinghouse company to work on the problem of wireless communication.
In 1900, Fessenden left the university to conduct experiments in wireless telegraphy for the U.S. Weather Bureau. He developed the idea of superimposing an electrical signal, oscillating at the frequencies of sound waves, upon a radio wave of constant frequency, so as to modulate the amplitude of the radio wave into the shape of the sound wave. On December 23, 1900, on Cobb Island in the Potomac River in Maryland, Fessenden succeeded in transmitting a brief, intelligible voice message between two stations located about 1 mile apart. Fessenden continued to contribute to the development of radio and in January 1906, he was able to establish a transatlantic wireless telegraphic communication between Brant Rock and Machrihanish. In December of the same year, he was able to broadcast a live Christmas message that was heard by ships along the Atlantic northeast coast and from shore stations as far south as Norfolk, Virginia, a first in history.
Walter Disney holds the prestige as having introduced the first cartoon voice in 1928. He was born on December 5, 1901 in Chicago, Illinois but moved to Kansas City at age 7 with his parents. He met Ub Iwerks, a fellow animator, at the Kansas City Art Institute and they soon set up their own company. In the early 1920s, they made a series of animated shorts for the Newman theater chain entitled "Newman's Laugh-O-Grams". However, the company didn't do well and soon went bankrupt.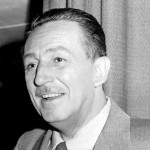 The two then went to Hollywood in 1923 and started work on a new series entitled "Alice Comedies" which ran for several years until it lost is popularity in 1927. Walt started to work on a new animated character, Oswald the Lucky Rabbit, which also became successful but in 1928, Walt discovered that the rights to the character have been stolen from him. As a result, Walt, together with his wife Lilly, his brother Roy's wife Edna, and Ub Iwerks inked the first Mickey Mouse cartoons which were quickly produced. The first two didn't sell so he added synchronized sound to the third one, Steamboat Willie.
From then on, he has created hundreds of animated cartoons with synchronized sound. To top it all off, Walt came out with the lavish musical fantasy Mary Poppins (1964), which mixed live-action with animation. It is considered by many to be his magnum opus. Even after that, Walt continued to forge onward and built Disneyland, now considered as the happiest place on earth.
A year after Walt Disney created the first Mickey Mouse cartoons, Looney Tunes, produced by Leon Schlesinger Productions and distributed by Warner Bros., premiered in cinemas. One of the most prominent voice actors who voiced the Looney Tunes characters was Mel Blanc. He was a former radio personality, who joined Leon Schlesinger Productions in 1936 – a company that made animated cartoons which were distributed by Warner Bros. Mel was famous for his versatility and is still known today as The Man of a Thousand Voices. He is considered to be the first outstanding voice actor in the history of the industry and played voices for the characters of Bugs Bunny, Tweety Bird, Porky Pig, the Tasmanian Devil, and many other Warner Bros. cartoon characters.
Raised in Portland, Oregon, he worked at KGW as an announcer and as one of the Hoot Owls in the mid-1930s, where he specialized in comic voices. It took him a year and a half to land an audition with Leon Schlesinger's company, where he began in 1937. He also worked for Walter Lantz, Metro-Goldwyn-Mayer, Columbia, and even Walt Disney until Schlesinger signed him to an exclusive contract.
One of Mel Blanc's most important contributions to the voice over industry is the recognition that voice artists now get to enjoy. Originally, voice artists were not given screen credit on animated cartoons. After he was turned down for a raise by tight-fisted producer Leon Schlesinger, Blanc suggested they add his name as Vocal Characterizationist to the credits as a compromise. Not only did it give a greater recognition to voice artists but also from then on, it helped to bring Blanc to the public eye and quickly brought him more work in radio.
As more and more animated films were produced, the need for outstanding voice actors steadily progressed not only for the movies but also for movie trailers, commercials, and promos. Thus, the industry saw a growing number of professional voice artists.
One of the most famous voice personalities for the modern generation is Don LaFontaine who recorded hundreds of thousands of commercials and promos by the end of his career. LaFontaine recorded his first voice over in 1962 for a movie trailer. From then on, he was able to set the standard for how movie trailers were written and voiced, literally becoming the voice of the movies.
Don LaFontaine was born on August 26, 1940 in Duluth, Minnesota, USA. His first professional voice work came while working on the 1964 movie Gunfighters of Casa Grande. He filled in for a voice actor in a radio promo. This led to more voice work and by the 1970's, he was one of Hollywood's busiest voice talents. He is most known for his works on Family Guy Presents Stewie Griffin: The Untold Story (2005), Santa vs. the Snowman 3D (2002), and Fillmore! (2002).
His is the voice you hear on the majority of the trailers/previews at movie theaters nationwide. His body of work included voice over narrations for at least 5,000 film trailers and possibly as many as half a million TV and radio spots.
His physical passing on September 1, 2008 left a great void in the industry but his legacy continues to grow and serve those in the voice over community.