Tara Makes a 'Strong' Comeback with Re-Imagined 'Powerpuff Girls'
It's been probably quite a long time ever since you heard her voice, but Tara Strong is set to make what can only be described as a 'strong comeback' into the voice over industry with the re-imagined 'Powerpuff Girls', Dance Pantsed.
The award winning 40-year-old voice actress, who has voiced several animated characters, has a stunning 372 TV, film and video games credits under her belt, is scheduled to go back to the studio and voice Bubbles, a character she voiced between 1998 and 2005 when Powerpuff girls aired on Cartoon Network.
According to Strong, the voicing of Bubbles in the "Powerpuff Girls" is one thing she will never forget in her life.
In spite of the fact that many years have gone by ever since Strong did a voice for Bubbles, she had no difficulties recollecting the right voice for this character in this new special.
"Bubbles has really never gone away. It's the most asked voice that people want me to do. And, Bubbles even comes out in my real life," Strong says. "I will use that voice when I'm arguing with my husband. There's no way he can win a fight when I talk like Bubbles."
Strong is making the comeback together with other great voice actors, among them Blossom voiced by Catherine Cavadani and E.G Daily who will voice Buttercup , the other two members of the Powerpuff Girls.
The re-imagined "Powerpuff Girls", Dance Pantsed, also features other characters such as Mojo Jojo voiced by Roger L. Jackson, The Professor played or rather voiced by Tom Kane, Ringo Starr, and finally Tom Kenny voicing The Mayor.
This new special follows the three main characters, that is, Bubbles, Buttercup and Blossom, with the backing of the professor as they try to combat crime in their town, Townsville.
When asked of the secret behind getting such an amazing number of credits, Strong said she has managed all those credits thanks to her ability to handle about ten projects at a go.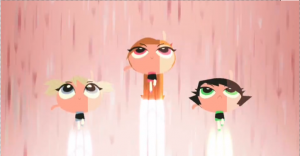 More often than not, a number of actors find it quite difficult to voice certain characters even after being supplied with sketches of the characters as well as the scripts, but not so with Strong and her Bubbles. Her new role actually reminded her of how "Powerpuff Girls" creator Craig McCracken was when she first voiced the character.
Born Tara Lyn Charendof, Tara Strong kicked off her voice over career with a role in the then famous "Hello Kitty".
Strong's only regret in the voiceover industry is 'having started quite late'.
"I would have loved to have been working when they started 'The Simpsons.' Those people made some serious money," Strong says.
Dance Pantsed premières on the Cartoon Network, tonight at 7:30, (ET + PT); 6:30, (BT).