Star Wars Rebel Packed with Powerhouse Voice Actors
The Star Wars franchise has been known for their iconic voice characters.  Top of the list is James Earl Jones who lends his iconic baritone to Darth Vader, Director and well-known puppeteer Frank Oz was Yoda for four Star Wars movies, and of course Anthony Daniels as the Droid C-3PO.
The latest offering of Lucasfilm and Lucasfilm Animation is no exception… Star Wars Rebels boasts a powerhouse voice ensemble, making it one of the reasons why fans are glued every Monday on Disney XD.
Meet the voices behind the Rebels
Star Wars Rebels is set five years before Star Wars Episode IV: A New Hope and it follows a group of rebels aboard the starship Ghost.  The group banded together after suffering in one form or another from the hands of the Galactic Empire.
Kanan, the cowboy Jedi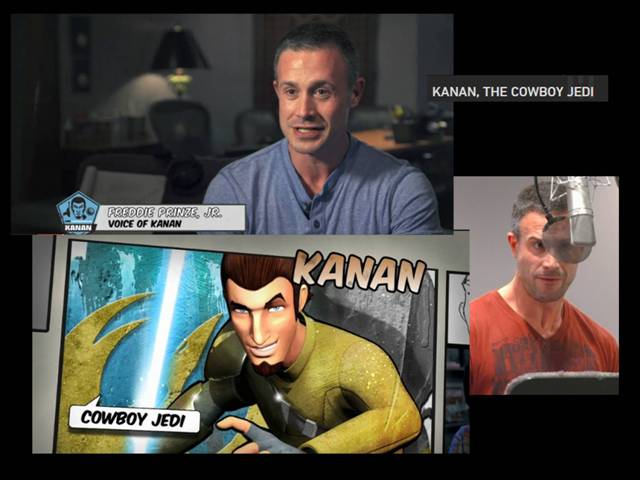 Freddie Prinze, Jr is Kanan Jarrus, the perceived leader of the Rebels.  Kanan is a complicated character, guarded about his past and lives without structure.  Animation supervisor Keith Kellogg said "He is a Jedi but he's not a Jedi in the traditional sense that we've had before on the show. He's a little more rough around the edges. He's kept his lightsaber locked away, so he hasn't used it in a long time."  This complex role is played off well by Prinze who is no stranger to voice acting.  Prinze has done several voice roles in the movies like Shark Bait and Happily N'Ever After, also a couple of video game characters. Prinze is able to show off multi-faceted character, playing the tough and confident leader, a mentor and older brother, and charming partner to Twi'lek Hera.
Twi'lek Hera, the Pilot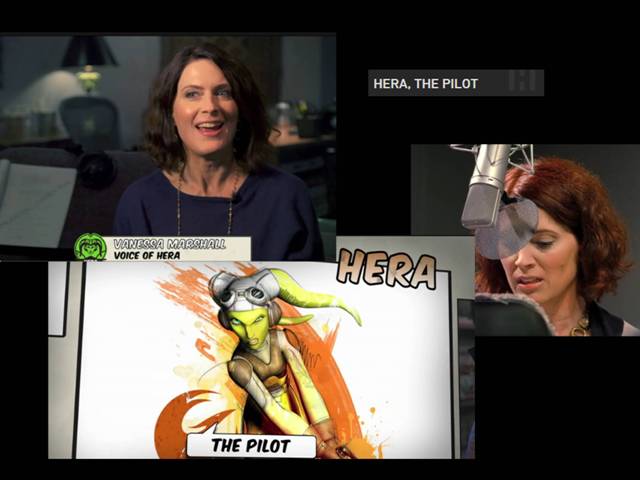 Hera is played by Vanessa Marshall.  Marshall is a professional voice actress who has done many voice roles for animation, film and video games.  The character Hera is easily one of the fan favourites, owing to the fact that Marshall has portrayed the complex role with ease and expertise.  The commander of the starship Ghost, Hera is described as a strong-minded character, yet warm and nurturing… the heart of the group.  Marshall is successful in voicing the role, intimating strength, shrewdness, warmth and yes, a bit of flirtatiousness.
Zeb, the muscle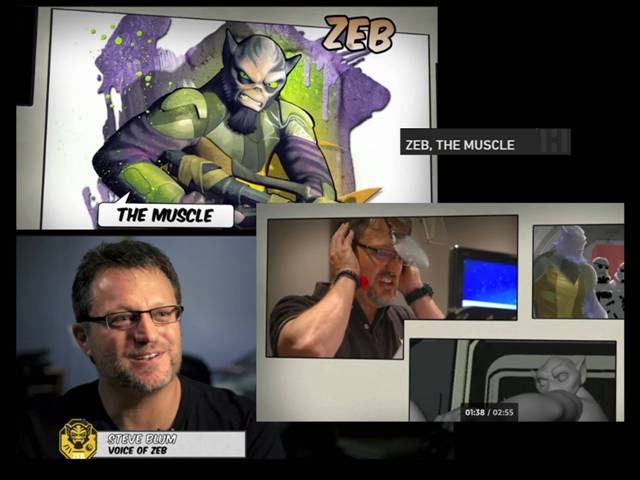 Another experienced voice actor who joins the voice cast is Steve Blum.  Blum plays the role of Garazeb 'Zeb' Orellios.  Art director Kilian Plunkett said, "Zeb actually is very articulate and witty and funny, and that's sort of juxtaposed with what he looks like, makes for an interesting character."  Blum is no stranger to playing the tough guy.  The list of his Japanese Anime, television and film animation, and video game roles is quite extensive, to say the least.  You can definitely hear from his characterisation of Zeb the experience of over 10 years of voice acting.  He pulls off the intellectual tough guy act perfectly and will sometimes show some soft spot for the boy Ezra.  Apart from doing the voice for Zeb, Blum also plays additional voices for the series.
Rounding up the heroes of the series are the young rebels; Ezra, the street-smart hero and Sabine, the explosives artist.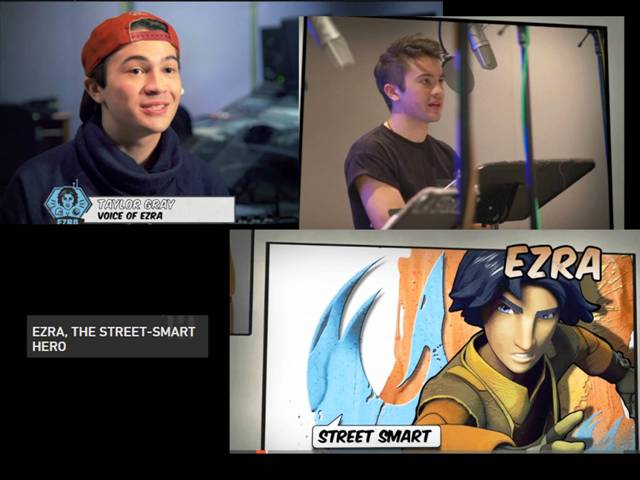 Ezra is voiced by voiceover newcomer Taylor Gray.  Gray describes his character as, "He's a pickpocket, and he's a little thief.  But he's doing it all because he needs to survive."  A pivotal role in the series, executive producer Greg Weisman said, "We see this whole series very much through Ezra's eyes. As his eyes get opened to what the Empire's capable of, his eyes are opened to the fact that there are people who care, who are trying to fight the good fight, and he becomes one of them."  Despite being his first time doing a voiceover role, this 21-year old actor still makes a convincing 14-year old thief and con artists.  Let us see how he will progress and develop his character in the future.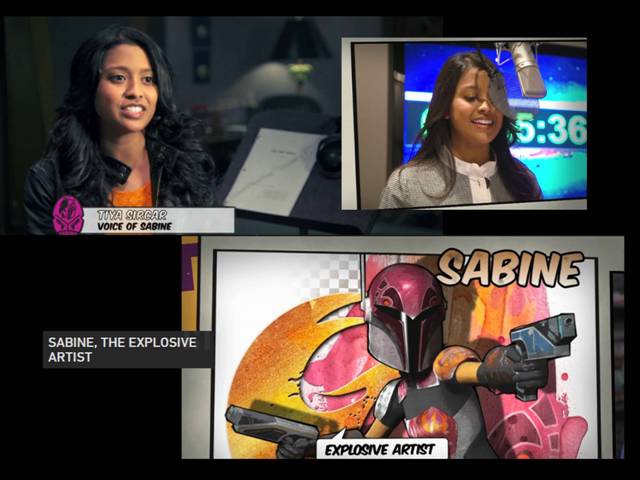 Sabine Wren is the Mandalorian graffiti artist and also the explosive expert of the group.  Actress Tiya Sircar voices Sabine.  Sicar is best known in the series Vampire Diaries and has a voice role credit in Phineas and Ferb.  Sicar said in an interview, that she finds the role inspirational and a character that she can explore.  Sicar plays off the Sabine as a spunky, feisty tomboy, with a bit of an attitude.
Though the two are relatively new to voice acting, they make a good addition to the ensemble.
The Villains
The list is not complete without the Villains, and Star Wars will never be Star Wars without them.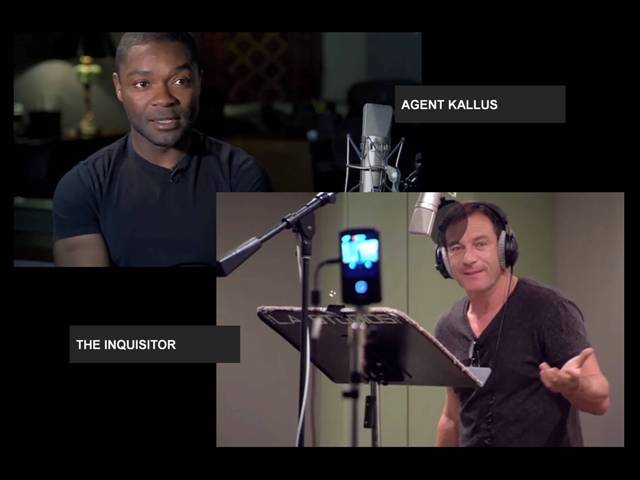 Agent Kallus is a high-ranking agent of the Imperial Security Bureau.  The role is played by British actor David Oyelowo. He is best known for his role in The Butler and as Dr. Martin Luther King, Jr. in the much-anticipated film, Selma.  Though his first voice role in an animation, Oyelowo has done a radio play and much-lauded for his audiobook narration of John le Carré's The Mission Song.  A review of his performance by Audio File says, "Think of David Oyelowo as a single musician playing all the instruments in a symphony.  That is essentially what he manages in this inspired performance of John le Carré's suspense novel… Can it really have been only one man in the narrator's recording booth?  This virtuoso performance makes that seem impossible." Makes you want to grab a copy of the audiobook and hear for yourself.  The depth of his voice is heard though in his portrayal of Agent Kallus.  His deep impressive voice makes him convincingly mean and perfectly villainous.
The main villain, the Inquisitor is an unnamed Pau'an who wields a double-bladed lightsaber, tasked by Darth Vader to rid all remaining Jedi in the galaxy.  English actor Jason Isaacs, best known as Lucius Malfoy in the Harry Potter films, is the voice of the Inquisitor.  Apart from playing the villain in countless film and television roles, Isaacs has done villain roles opposite animation heroes, like Admiral Zhao (Avatar: The Last Airbender), Sinestro (Green Lantern: Emerald Knights) and Ra's al Ghul (Batman: Under The Red Hood).  Like in many of his evil roles, Isaacs brings darkness into the character.  Isaacs' portrayal is cold, calm and calculated, and coupled with amazing dialogue can definitely strike fear.
Star Wars Rebels has received so far generally favourable reviews.  The storyline is definitely promising and the performances of the voice actors make it even more worth watching.
---
Photo Sourced from: Star Wars Rebels