The Peanuts Movie Voice Cast Revealed
After Blue Sky Studios and 20th Century Fox released the first official trailer of the 2015 Peanuts movie, everyone was a buzz on who will be the choice for the voice cast.  Well guess no more… the producers finally announced the voice ensemble of Fall 2015's most awaited animation.
The producers have made a wise decision by casting actors with experience in voiceover work, television, commercials, or have credits with Disney Channel and Nickelodeon.   It goes to show how the Schulz family is protecting the legacy of Charles M. Schulz by going for experience… it really does make a difference.
Just introduced the talented kids who will be the voices of the #PeanutsMovie pic.twitter.com/VfddFGo5sd

— Paul Feig (@paulfeig) November 27, 2014
Let's meet the cast…
Our boy Charlie Brown, the perpetual loser and optimist, will be voiced by Noah Schnapp.  The young actor recently finished work on the indie film We Only Know So Much, based on the book of the same title and will star opposite Tom Hanks in a Cold War movie directed by Steven Spielberg.  Noel has done voiceover ad credits and commercials, including one with Chase Bank.
Sally Brown, Charlie Brown's little sister who has questions for everything will be given voice by Mariel Sheets.  Mariel has been featured in Sofia the First and in the short film Hardy.  She has appeared in several commercials (Food Network, At&T) and also did voiceover work for an audio book and radio commercial.
Lucy Van Pelt is the crabby 8-year old bully, who likes to give Charlie and her younger brother Linus grief.  Hadley Belle Miller will be playing Lucy.  Hadley played Buttercup in Sofia the First and was a vocalist for Jake & the Neverland Pirates.  Hadley has also done musical stage work with 3-D Theatricals production of Shrek the Musical, Sound of Music and played Sally Brown in an Attic Theatre production for You're A Good Man, Charlie Brown.
Linus Van Pelt is the unusually smart and philosophical younger brother of Lucy.  He carries around with him his security blanket.  The young philosopher will be given by voice by Alexander Garfin.   Alexander appeared in the television series Law & Order SVU and Saturday Night Live.  He was also part of the stage production of On Borrowed Time and You're a Good Man, Charlie Brown.
Our musical genius Schroeder is known for his precocious skill at playing his toy piano and his love for classical music and Beethover.   Schroeder will be voiced by Noah Johnston.  Noah played young Mike Wazowski in Pixar's Monsters University.
"Pig-Pen" is known for wearing perpetually filthy overalls and by the cloud of dirt and dust that follows him wherever he goes.  AJ Tecce will voice "Pig-Pen".  AJ has done several radio and television commercials and voiceover work.  He appeared in the movies Raising Ethan and Stereopsis.
Charlie's object of affection, Little Red-Haired Girl, will be played by Francesca Capaldi.  The 10-year old actress (who also happens to have red hair) is currently stars as Chloe James in the Disney Channel sitcom Dog with a Blog.  She was nominated for a Young Artist Award for her guest appearance in the A.N.T. Farm.   And she played the 7-year Lily Aldrin in How I Met Your Mother.
Peppermint Patty, or 'Sir" to Marcie, is the tomboy of the gang who likes to call Charlie 'Chuck'.  Venus Schultheis is the voice of Peppermint Patty.  Venus has appeared in several commercials like Lunchables and Ever After High.  She also briefly featured in the short film Fourteen Seeds.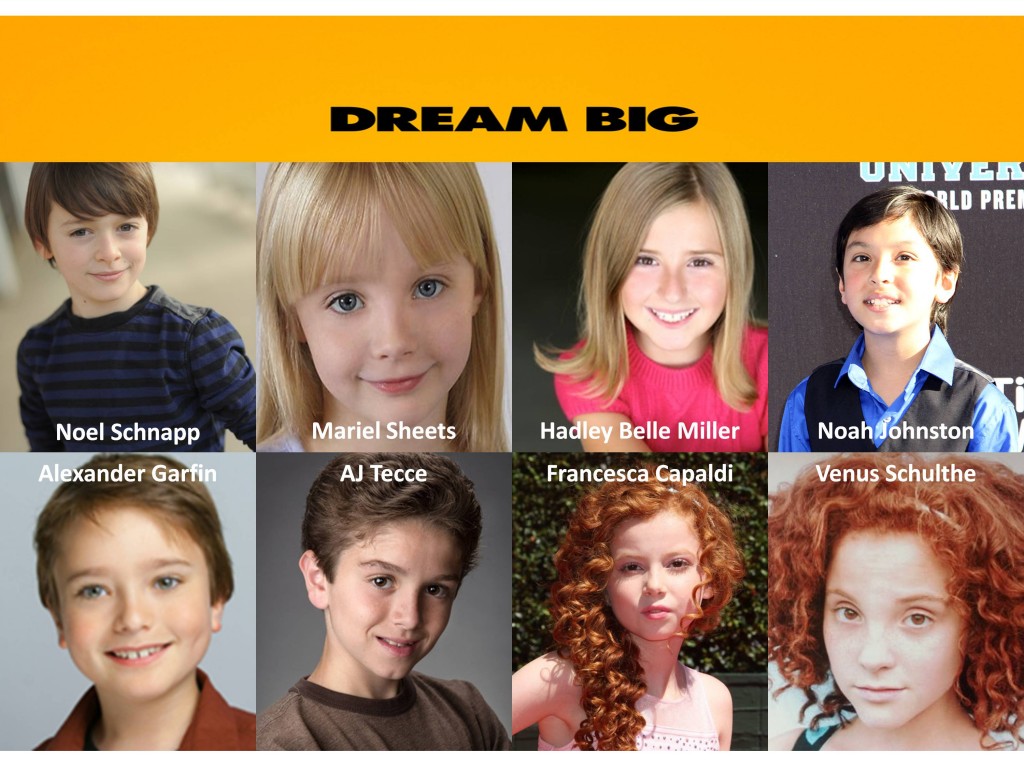 Franklin Armstrong is Charlie Brown's good friend who is always confused by all the strange things that is happening in Charlie's neighbourhood.  Franklin will be voiced by the funny young actor Marleik Walker II (Mar Mar).  Mar Mar has worked on several television series like Austin & Ally, Guys with Kids and Bubble Groupies.
Marcie is Peppermint Patty's best friend and who has a secret crush on Charlie.  Rebecca Bloom gives voice to Marcie, who serves as comedic foil to Peppermint Patty's tomboy act.  Rebecca has appeared in the stage production of Annie, The Jungle Book and How to Eat Like a Child.
William Alexander Wunsch (Shermy), Anastasia Bredikhina (Patty) and Madisyn Shipman (Violet) completes the cast.
The Peanuts Movie will hit the big screen on the 6th of November, 2015.