Markle Signed a Voiceover Deal With Disney
Prince Harry was caught by a camera as he was talking to Disney CEO Bob Iger about Duchess Meghan Markle's voice acting skills. Back in July, the royal couple attended the London premiere of The Lion King where they met the Disney CEO. While Meghan was busy talking to her colleagues, Harry was busy flexing her skills to the CEO.

Did Meghan Markle signed a voice over deal with Disney?

Even before the announcement that they are stepping down as the senior members of the royal family has been made, Duchess Meghan Markle has apparently signed a voiceover deal with Disney. According to Times, the Duchess of Sussex has signed a deal that will benefit the Elephants Without Borders. Elephants. This organization protects animals from poachers.

It was said that Prince Harry pitched the job for his wife. In a short clip that resurfaced on Twitter, Prince Harry is seen speaking to Disney CEO Bob Iger about Meghan's voiceover skills. In the video from last year's premiere, Harry can be seen discussing Meghan's interest in doing voice-over work to Disney CEO Bob Iger.

While Meghan was talking to Beyonce and Jay Z, the prince and the CEO had a conversation. "You know she does voice-overs," says Harry, and Iger responds, "Oh, really?"

"Did you know that?" asks Harry. "You seem surprised." Harry then gestures toward Meghan and says, "She's really interested." After this controversial clip, another short video from last year's premiere was unearthed.

On this video, the couple is seen talking to the Lion King director, Jon Favreau. Harry tells Favreau, "Next time, anyone needs any extra voice over work, we can make ourselves available" to which Meghan jokingly interrupted the conversation by saying that the reason why they attended the premiere is to pitch. Though these videos are circulating online, the royal couple nor Disney has not yet given their official statement regarding the voice over deal.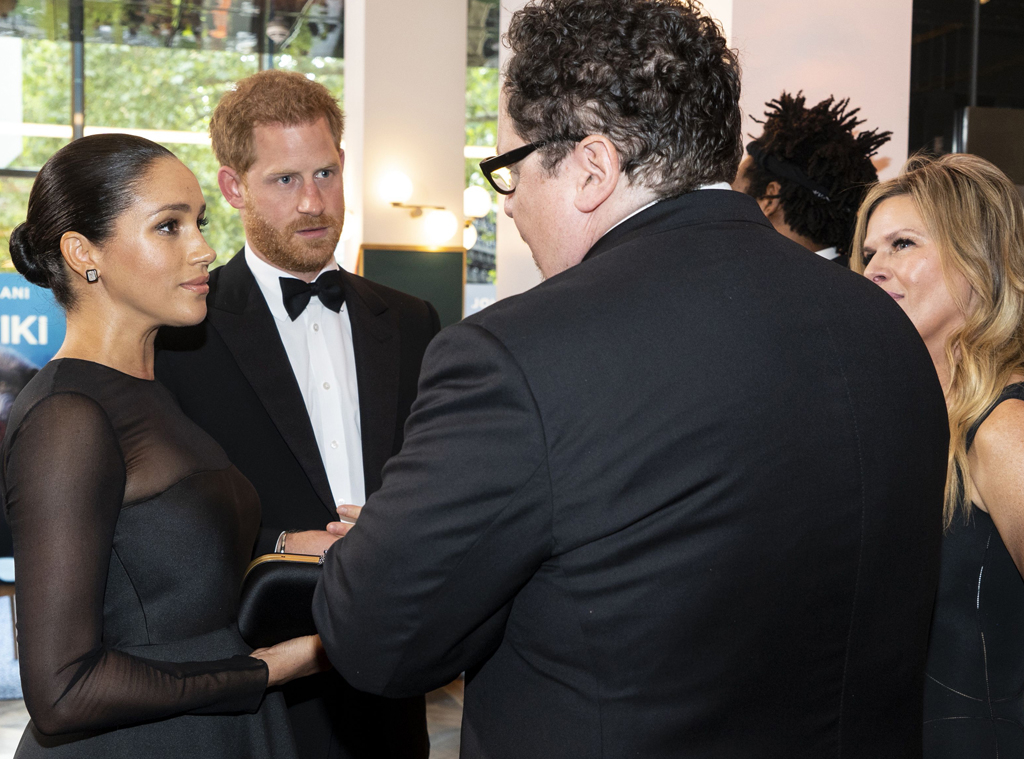 What job offers did the Duke and Duchess of Sussex received after the 'Megxit'?

Now that they have announced their intentions to leave behind their royal duties, a lot of job offers came to the Sussexes.

Burger King Argentina, for example released an ad campaign that says, "Dear Dukes, if you're looking for a job, we have a new crown for you." Later that week, Burger King US joined the fun by tweeting: "@ harry, this royal family offers part-time positions."

According to the Hollywood Reporter, ABC Entertainment president Karey Burke has also stated that, "We have an office waiting for them in the animation studios building should they be looking to produce television." Netflix has also expressed their interest in working with the royal couple. It has been reported that Netflix's chief content officer, Ted Sarandos answered in an interview, "Who wouldn't be interested? Yes, sure," when asked if he is interested in speaking to the Sussexes about the possibility of them working together.

Months before their royal exit was announced, it was revealed that Prince Harry worked on a documentary with Oprah Winfrey. The documentary is about mental health, and it will be available on Apple TV+ soon.

Though acting is one of Meghan's career, Elizabeth Much of E2W Collective thinks that acting is off the hook at the moment. She said that, "It would be more difficult in the acting arena since Meghan's fame is so enormous, but having said that, there will always be places that will hire her. She's a really good actress, too."
What is Queen Elizabeth II's take on this?
Queen Elizabeth II has given her blessings to the Sussexes' towards their plan on stepping down as senior members of the royal family. In her statement, the Queen expressed her support for the couple's "desire to create a new life as a young family." Queen Elizabeth II said that they we would have preferred that the couple remain as full-time working Members of the Royal Family, but they respect and understand their wish to live a more independent life. There are several royal stuff that will no longer be enjoyed by the couple like, not being able to use the HRH titles (His Royal Highness/ Her Royal Highness), also, they will no longer receive public funds, and would have to repay some of them. Harry, in particular will lose his positions in the British Military. The queen expressed how proud with how the family was able to cope up with the scandals brought to them by tabloids, particularly Meghan. She also said that the Sussexes will remain as a loving, and dear members of the royal family.

As aforementioned, the couple will still be a part of the royal family, but they will no longer perform the duties that they used to do, and they can no longer represent the queen. With regards to the job offers that they have been receiving, the Palace has not given their statement yet.

Some have predicted that the couple would live in Canada where the former Suits actress lived while in the series.