Exploring the World of Voice Over – The Philippines
You may know how big the voice over industry is in Japan being the anime capital of the world; and no matter how huge the movie and television industry in India is, they still have plenty of room for international movies and shows, dubbing hits in not just one language but in multiple local dialects and languages; and Mandarin is one of the top languages recorded for ads whether for television, radio or internet – but do you ever wonder what the voice over industry is like for their neighboring Asian countries?
The Philippines – a country name dropped in countless movies and television episodes, is also prime for voice over work. As one of the first Asian countries to produce radio programs in the 1950's and eventually a pioneer in movies in their region, Filipino voice over talents found most of their work playing characters for radio dramas and dubbing over live actors' voices in movies.
In the next 60 years, the tapestry for voice over work for this small island country changes along with the changing technology and times.
We caught up with Filipino voice over talent, Pocholo Gonzales, dubbed as the country's VoiceMaster and founder of the Philippine Center for Voice Acting, to share what the voice over industry is like in the Philippines.
---
How big is the voice over industry in the Philippines?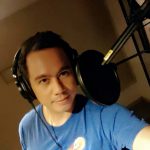 As technology grows, the need for voiceover grows. 20 years ago when I was starting out, voiceovers are only needed for radio/TV commercials, radio drama, and dubbed anime and soap opera. The proliferation of the internet and automated technology brought about the need for voiceover in these emerging media – telephony systems, educational materials such as e-learning and virtual tours, audio-visual presentations, websites and mobile apps, and interactive gadgets like GPS, elevators and the ATM.
Localization has also made the industry huge. There are a lot of projects like children's stories, foreign movies and TV shows, even e-learning that need to be translated and dubbed in our native language, and even in some of our native dialects. Many of these projects are with international clients.
What type of work do Filipino voice over actors normally get?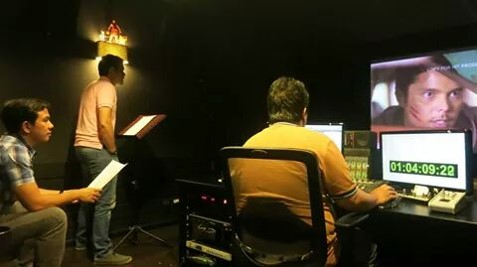 There's really a wide range of voiceover projects that we get here in the Philippines – commercials, dubbing translated content for different media and platforms, radio drama, video games, audiobooks, e-learning, AVP's, IVRS – you name it, Filipinos can voice it. Filipinos are very good English speakers, and mostly have a neutral accent, which is why we remain to be the top choice when it comes to English voiceovers in Asia. Also as mentioned, there has been a huge demand over the last few years for localized content, which gives more opportunities to voice artists.
I believe I have helped revolutionized the voice acting industry in the Philippines through my school. Voice acting grew not because of the demand, but because of the SUPPLY. Hundreds of new voices have become available to choose from – in various ages, dialects, range, characters, etc. – and that made the industry more known especially to the organizations that need them. Take audio-video presentations (AVP's), for example. We get a lot of voiceover projects for corporate videos, events, production promotion, explainer videos, etc. It used to be that these clients would just choose an employee in their company with a "good voice" to do the voiceover. Now, they know that the voiceover can be done by a professional voice artist.
How accessible is voice over training in the Philippines?
Through the Philippine Center for Voice Acting, voice acting training has become very, very accessible to aspiring voice artists. Every year we conduct several voice over trainings like "Basic Voice Acting and Dubbing Workshop", and 2-month workshops where students are taught not just the basics of voice acting and dubbing, but also translating scripts and creating character voices.
Not only do students learn the basic skills needed in voice acting, but they also get to develop their self-confidence in the process… something that's crucial to succeed in the voice acting industry.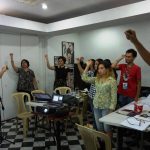 The workshop also goes beyond the confines of the classroom and exposes the students to real-life experience in voiceover, dubbing and broadcasting. Even after the workshop is over, we (the teachers) invite our students to our recording sessions, auditions and radio programs so that they can apply what they have learned in training. The great thing about our school is that it promotes the culture of sharing opportunities and learning. We encourage our students to submit their voice demo and audition for projects even outside our studio.
Despite the success of our school, however, we are still faced with the challenge of making voice acting training more accessible, especially to our fellow Filipinos in other parts of the country. I cannot tell you how many times I have been asked if we have another branch in a certain province, if we can accept one more student when the slots are already full, or if we can do the workshop more often in a year.
Where do you see the future of voice over in the Philippines?
Voiceover in the Philippines has significantly grown, and will continue to grow in the next 10-20 years.
I can clearly see how the Philippines can easily become the first choice for dubbing and voiceover in Asia, because we speak English relatively well and have a neutral accent compared to our Asian counterparts. In addition, through our efforts in our voice acting school, voice artists also get to learn the many facets of the voiceover industry – including translation, sound mixing and sound design. As long as we develop the culture of sharing knowledge, skills and opportunities, it won't be long before we see the Philippines as the center of voiceover excellence in Asia.
---
In a country known for their talent and skills in singing, acting and in the arts and boast 76% proficiency in a second language or another; and with their healthy obsession and fascination in various voice over mediums – video games, animation and entertainment, and with a little more push and help from more voice over actors and innovators like Pocholo, we may see the Philippines alongside countries like Japan, India and China in the voice over world soon.