Christine Cavanaugh, Voice of Babe, Chuckie and Dexter Dies at 51
According to L.A. Times Christine Cavanaugh, voice actress of some of the most memorable characters in television animation, died of undisclosed cause last 22nd of December.
Cavanaugh's first known credited voiceover role was as David in the English version of the animation David and the Magic Pearl in 1988.  She later on joined the Darkwing Duck series as Gosalyn Mallard, the title character's adopted daughter.  She then played Dexter in the animation short Dexter' Laboratory in 1995 and then reprised the role when the short was adapted into its own series for Cartoon Network.  Cavanaugh won an Annie Award for her voice performance as Dexter in 2000.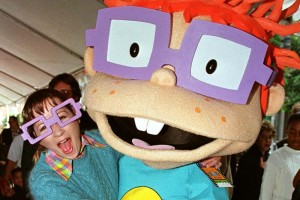 Cavanaugh was known and hired for her great ability to play young boy characters.  In 1995, Cavanaugh was the voice of the Gallant pig in the movie Babe.  Cavanaugh however was best known as the nervous and excitable Chuckie Finster, on the Nicklodeon hit Rugrats from 1991 till 2001, the year she announced her retirement from voice acting.
Cavanaugh's sister, Deionn Masock confirms her death at her home in Cedar City, Utah.   In the L.A. Times obituary they wrote, "She was able to do incredible and amazing things with her voice and bring lots of smiles and many laughs to many people."
"Christine lived her life the way she wanted. Accolades, notoriety, and recognition were not the reason for her interest in entertainment, it was for the love of entertainment, to make people smile. When her life changed she found herself needing the quiet of the country and her love changed from entertaining to hiking, reading, writing and living a simple life," her obituary continued.
Cavanaugh was married and later on divorced to Kevin James Cavanaugh.  She is survived by her father, Kirt Johnson, her brother Kirtis, and sister Deionn.  A memorial was held in her honour on Antelope Island.