We Talk To Successful Online Voice Over Talent – Christian Rosselli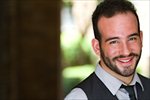 What are some of the benefits from being a freelance voice actor and working from home?
Some of the major advantages of being a voice over talent are the independence and freedom this lifestyle offers.   You are your own boss- you create your own schedule, set goals, objectives, create lists.  I find it to be quite fun and rewarding.  Essentially you're a business so you must discipline yourself to act like one.    At home, I have the world at my finger tips- it's a relief to know that a slew of resources are now available online to the voice over actor- casting sites, vo blogs, forums, social media support groups, to name a few.    I'm also able to focus on a variety of different endeavors   whether it's strengthening my promo pipes, sending out reels, practicing on an audiobook, navigating unfamiliar commercial copy, or marketing to potential clients.   I'm always looking to challenge myself with new material.     However, working from home does become isolating at times.  Luckily I've learned to balance my schedule with exercise, meditation, mini day trips out of the city, photography, and other hobbies.  
 How long have you been doing voice overs? How did you get started?
Well, I began my interest in voice overs about five years ago.  I was working as an assistant in the casting and production department of a well-known independent film studio and every day I was hearing movie trailers being played over and over again in the marketing department, around the corner from my desk.  I'd hear guys like Don LaFontaine, Ashton Smith, Howard Parker or Ben Patrick Johnson shaking the office floor with their epic, booming 'In a world' voices.  I didn't think much of it until people (mostly agents and film professionals) started telling me over the phone that 'you have an amazing voice. you should do voice overs.'   After a while, I eventually decided to explore this as a career option, though I wasn't completely sold.  It just so happened that a mutual friend at the time was working for a major VO agent in New York and she referred me to some coaches in town.  I started taking lessons but didn't create my first commercial demo until after a year of training and classes.  I was doing VO part-time while I worked various day jobs and then went full-time with it about 2 years ago.  
 How has The Voice Realm helped you find work?
It's put me on a different map in the online community and given me more exposure to a wider range of clients. It has also helped me be more selective about the jobs I choose as well.  Thus far I've been pretty satisfied with the types of jobs that are coming through.  The clients I've worked with recently have pointed to certain highlights of my reels that they enjoy most and want reflected in my reads.  I feel more at ease knowing that The Voice Realm has chosen clients with this level of professionalism.   
 How is it different to other sites you've seen?
I think The Voice Realm differs from other sites in that it offers more client selectivity and overall better quality jobs.  At the end of the day I feel like it's a casting site that ultimately is rooting for my success and not just my wallet. In my nearly 2 months of being on The Voice Realm, I've already booked 3 jobs, which I feel was due in a large part to them being specific about which clients/projects would be best tailored to my talents.  
In addition, there is an initial screening process which makes it more competitive to join and, if you're accepted, the annual membership rate is significantly lower.  You're not competing against thousands of amateurs- they're like-minded professionals who are serious about doing voice over.  Other sites tend to give aspiring voice talent and inexperienced folks the impression that 'anyone with a cheap mic, a mediocre demo and no experience can do voice overs.'  It's not for everyone and I appreciate that The Voice Realm is only open to professionals.   There's great comfort in knowing they have an extra advantage.
What's the quality of jobs like that you've seen come through the site?
So far I've worked on some great narration pieces that really have challenged me. I've also been invited to audition for some national TV spots that have competitive non-union rates as well. At the end of the day, it's not about how much money I am making, but rather the relationships I am creating and potential opportunities down the line.
How have you found our customer service from the site to be? ; )
Customer Service is one of The Voice Realm's major strengths.  Whenever I am booked for a job, the site's team always makes sure I am aware of the deadline or what steps I need to take to deliver my materials in time.  They've also been truly helpful when I was confused or had questions.  They're supportive, accessible and respond in a timely manner.  
 Where do you see the future of the voice over industry headed?
It's hard to tell at this point because the industry is in a state of turmoil, both positive and negative.  A great deal of the work, if not all, is shifting to an online marketplace and therefore has become a cost-effective solution for many voice over talents.  That's terrific news for people who are not in a major metropolis or near a top notch studio but also a challenging adjustment for casting directors, agents and other professionals who are trying to channel the bulk of those opportunities.  
With the influx of P2P sites over the last several years, I think we're seeing a general paucity of quality, well-paying jobs. Or good quality but very low paying.  At times, elsewhere (not The Voice Realm) I've been asked to do long narration pieces for $70 or a Local TV buyout for $50.  It's an inconvenient truth about the business right now and I think there will be a convergence of smart and savvy professionals , like those at The Voice Realm, who can promote fairness in overall rates.
Some sites are doing a disservice to the experienced talent that is looking to further their online presence, increase their SEO, and also build strong relationships.  I think the consensus is that there needs to be a solution to this very soon.    
What are some of the benefits you've found from being in control of which jobs you audition for?
You can be very selective and not audition for everything you see just because of pay.  If there's a buy-out for $2000 but the specs are completely opposite my type, I may pass on the material and I'm ok with that.  The online frenzy of some sites I feel causes so many voice talents to be less selective about the jobs they audition for.  The minute they see a large figure, they instantly upload an audition, without carefully reading the specs. Turning down work only sets the bar higher for yourself and increases your 'game'. 
By having this control and freedom, I've been able to set higher standards for myself and am totally confident about the next opportunity.  
Thanks so much to Christian for sharing his experiences regarding online voice over work.