Was Mel Blanc, Bugs Bunny's Voice, Allergic to Carrots?
A lot has been said about Mel Blanc, the great voice actor who was popularly known as "the man of 1,000 voices", but only a few, if not one has stood out. That is, the much hyped claims that his voice was 'allergic to carrots'. Many people find this quite ironic, since he voiced Bugs Bunny, a wild hare which was fond of chomping on carrots!
Many sites have been quoted stating that Mel hated carrots because they affected his vocal chords a big deal. But how true is that? Was his voice really allergic to carrots?
According to Chuck McKibbin, Mel Blanc's best friend and co-worker, Mel wasn't allergic to carrots as many people would want to believe. He is quoted in The Straight Dope as saying that in spite of the fact that Mel didn't like carrots he wouldn't mind having a piece either.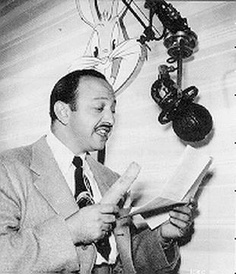 "The story about him being allergic to carrots is nothing more than an urban legend. He didn't necessarily like carrots, for that matter, Mel wasn't fond of anything healthy but there was nothing like the crunch of a carrot. Mel knew that. So he'd chomp, spit it out in the nearby spittoon, and say his line. Mel was a true professional", Chuck told The Straight Dope.
Mel's allergic story started to build as a result of what he used to do while in studio voicing Bugs Bunny. Producers required him to chomp on carrots just as Bunny did, but Mel would spit the carrots immediately after a bite. He couldn't keep it in his mouth for a long time. The producers might have, though unknowingly, played a big role in the 'cooking' of this story when they unsuccessfully tried to substitute the carrots with other crispy vegetables such as celery and making people believe that Mel was indeed allergic to carrots. The substitution did not, however, produce the results they desired. It only served to fuel claims that Mel Blanc didn't like carrots, or, was actually allergic to carrots.
The "Mel's voice allergic to carrots" story started going viral in the internet when it was first spotted in "amazing" facts list. But it is now clear that Mel Blanc wasn't allergic to carrots, at least going by what his co-worker and close friend Chuck McKibbin said.
Mel voiced Bugs Bunny for close to 50 years. He was renowned and acknowledged for his amazing talent. He passed on in 1989. Apart from Bugs Bunny, Mel also voiced other famous characters such as Daffy Duck, Porky Pig to name but a few.