Voice Actors of China – From Beijing to Big Apple
What super powers do you need to transform yourself from a young adult to an old man… to be in two, (maybe more) places at one time… to send out your voice to thousands of miles away?  Well, nothing really, you just need to be a voice actor!
With professional home studios being built in closets, basements or spare rooms, voice actors can sit in the comforts of their home in New York and have their voices heard in Mainland China.
Take for example…
There are a number of English speaking, foreign voice actors in Beijing and Shanghai and these voice actors are helping China become proficient in English.  Every year, millions of Chinese students take the standardised English listening exams hoping to get into colleges or universities either home or abroad.  Study materials and practice tests are in such demand that they are produced by the thousands. A chosen few get to voice the government-administered tests, but surprisingly, these coveted official tests landed on the lap of one voice actor based all the way from New York.
Kris Chung, a Chinese-American New York-based voice actor, is recognised as the voice of the official tests.  He has lent his voice to these exams for several years now, and according to Beijing Global Voice recording studio, Kris' voice is heard by over 8 million test takers every year.
Because of this prime project and recognition, Kris is taking in more work. From his home studio in the Big Apple, he continues to work with China-based clients.  He is kept busy with recording new versions standardised tests, as well as working on commercials and educational cartoons.
On the flip side…
Work can still be few and far apart, because of irregularity of work and short-term contracts.  Work can also be tedious, especially for those seeking creative challenges as majority of the projects produced are for educational use.  Voice work for cartoons or animation or film narration do not come along often and if they do, competition is fierce.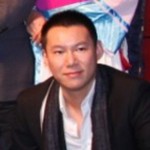 For David Ho, a Beijing-based voice actor, this is not a problem. He prefers projects that needs a steady and calm tone – nothing of the passionate, insane, or exceedingly exciting voiceover work.  This may be influenced by his background as news anchor for one of Beijing's radio stations. After he found out that he can make a career out of being a freelance voiceover, he left his day job, majored in Voiceover in the Communication University of China, set up his home studio, and as they say, the rest is history.
If Kris gets his big projects from China-based clients, David gets work mostly from international clients. From his Haidian District home studio, he gets his jobs online. David shares, "From the beginning of my voiceover career, I get my jobs over internet and not limited to Beijing projects. It started with a Malaysian client and from then on I got known in the market by word of mouth, from one online client to another."
You can transform, be in many places, travel with your voice… no special powers needed – just the right technology, skills and passion.  As David puts it, "Being a Chinese voiceover can be competitive. I see voiceover not just a business but also a kind of art, so no matter what kind of voice you have, if you put your soul and heart into it, you will find your place in the market wherever you are."