Video Game Voice Actors are Taking the Strike Vote
Voice acting has come a long way in the last 15 years, and with that we saw a massive development in the video game industry. We no longer just see a simple point and click game, or pixelated character we command to run or jump… it is has become a story, a whole new world that movies can't fulfil. The video game industry has evolved and apart from the technology, a huge part of its success is due to the actors behind it.
Now SAG-AFTRA voice actors are trying to make a stand against the industry bigwigs, asking for more pay, and safer and better working conditions. If companies like Activision, Warner Bros., Disney and Rockstar Games continue to ignore the union's demands, the voice actor members may go on strike.
The call for a vote does not mean authorising the Union to go on a strike, however it is authorising the Negotiating Committee and elected representatives to use this as a last resort if video game companies would still refuse to meet their terms or come up with a fair agreement.
On the SAG-AFTRA website, they have listed down what they stand for:
Performance Bonuses
They are asking for a reasonable performance bonus for every 2 million copies, or downloads sold, or 2 million unique subscribers to online-only games with a cap of 8 million units/subscribers. This would mean four bonus payments for the most successful games in increments of 2 million.
It may be that only 20% of video games use union voice over actors, but based on their research, this demand is warranted as the top 100 best-selling video games has nearly 100% union voice talents penetration. They state that their ask is reasonable as they understand that at the 2 million mark, "it's where most games start to turn profit, and it's where all the union talent is found."
Vocal Stress
They are asking to reduce the recording session hours to two hours for vocally stressful sessions at the same union minimums.
Stunt Coordinator on Performance Capture Volume
They want a stunt coordinator to monitor the performance capture sessions of voice actors for their safety. And also to train them to how to fight, do stunts and combat, and how to do performance capture properly to look more realistic in the game.
Transparency
The union wish to learn more about the project that they will be working on. They propose that the actor's representative should be given the title of the project before the actor is asked to audition. They also propose to get the following information when possible:
How many sessions are you expecting to book?
What rating are you planning to get? Why?
Is there offensive content?
Will the sessions be vocally stressful?
A lot of actors have chimed in and also took to Twitter their position about the proposals of SAG-AFTRA with the hashtags #PerfomanceMatters and #IAmOnBoard2015.  So far, voice actors like Wil Wheaton (Grand Theft Auto: San Andreas), Dave Fennoy (The Walking Dead), Tara Strong (Batman: Arkham series), Phil Lamarr (Metal Gear Solid), Travis Willingham (Funimation/OkraTron 5000) and Ashly Burch (Life is Strange) have voiced their support.
More notable of all was Will Wheaton, as after he took to Twitter for the first time about the issue, the actor took some flak about his position.
He later posted on his website, explaining his vote.
In his post he states:
I can't speak to the fairness or unfairness of residuals or lack of residuals for programmers, artists, composers, and others who game developers and publishers, because that's not my job, and I don't know what, precisely, their contracts are. I certainly don't believe that there is some sort of feud or lack of shared interest between us (the actors) and them, and I fully support all the people who work on games — especially the huge blockbuster games that pull in profits that are in line with the biggest blockbuster movies — getting the very best contract, with the best compensation and best working conditions that they possibly can.

But I did not give my union authorization to call a strike on my behalf because of this issue. I voted to authorize a strike because our employers in the games industry refuse to negotiate with us at all.
He also paints a picture of what a day looks like for a video game voice actor, even sharing some lines that non-voice actors can read through to experience what a voice actor has to go through daily.
He ends with his sentiments that their actions are not to make enemies or to make more money, but to secure their livelihood, to care for their voice and their overall well-being.
I love the work that I do. I'm grateful for the work that I have, and I've been lucky to work with some incredibly talented people on both sides of the recording studio glass. This isn't about making enemies of the other creative people in the business, be they directors, studio engineers, artists, programmers, sound designers, writers, etc. This is about a handful of extremely wealthy, extremely powerful people trying to take away our ability to make a living, to take care of our voices, and to be safe on the set.

We in the voice acting community — along with the programmers and engineers, of course — have helped video games grow into a multi-billion dollar industry. Video games rival movies not because we push buttons and get loot, but because video games
---
We asked Brian Richy, a non-Union voice actor, about his thoughts on the move of SAG-AFTRA to vote on a strike and of their proposed changes.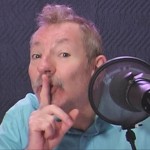 "Considering the fact that Union Film Actors receive residuals when the movie goes to Video or DVD or aired on Television, and the bigger stars can take a cut in pay for a percentage of the Gross, then why not similar scenarios for The Video Gaming Industry Voice Actors who work hard to bring the animated Characters to life and help to create the Brand that sells!!  After all an actor is an actor whether it's on the big screen or just behind the mic!!  I do not find this rally by the Union unfair at all."
"I think this will be a major hurdle for these Voice Actors that will establish them as the major players they are and hopefully lead to Academy Award Status which at present is non existing for any Voice Actors."
"Being a Voice Actor myself spending hours at a time in a Studio is physically stressing to say the least, since we strive to give the best performance and thus receiving extra pay for those extra beyond the call of duty Voice deliveries is not out of proportion at all. Continuing use of one's voice for extra stressful performances can lead to throat issues which could impact our performances for other jobs and lead to downtime and loss of revenue! I know for a fact that Clients will always try to take advantage of you when they have you in the studio Union or Non Union."
"Being myself a Non Union Voice Actor, the only positive thing that could emerge out of this scenario if no agreements are reached is that the majors will start looking at Non Union Talent in a new light!!!"
---
Are you a Union or non-Union voice actor? Share your position with us by commenting below.