Part 2 of Jay Britton's Trip from The UK to LA
British male voice talent Jay Britton recently hit LA LA Land to make a new demo. If you missed part 1, catch up here. Below Jay continues his adventure continuing where he left off at the beginning of Tuesday morning, D-Day!
[hr]
The plan for Tuesday was to meet with Rob Paulsen in the morning for a one to one coaching session and then head off to the Demo's that Rock studio to record an Animation demo and a Video Game demo. Chuck Duran would be producing and Richard Horvitz was coming along to direct as well. I'd be heading straight off from the studio to LAX and my flight home!
Tuesday morning was spent frantically packing and getting ready to leave, I was meeting Rob at my hotel at 10:00 and I couldn't have been more excited. For me I get the same buzz from meeting the likes of Richard and Rob that normal people would from meeting Brad Pitt. These are people I greatly admire both personally and professionally so I don't have to tell you that my heart was racing before I met Rob!
We met in the lobby and headed up to my hotel room, Rob was such a nice guy I was at ease within minutes. We settled down in the room and the plan was to go through the copy for my animation demo and discuss the industry in general. Rob is a fantastic actor and responsible for creating some of my most favourite characters from my childhood. Watching Rob go to work on my animation copy was a true privilege. The ease with which he flowed from character to character and created these full and round characters without flinching was a joy to watch. Rob's advice echoed that of Donna Grillo with regards to ensuring the characters you create are fully 3 dimensional and reflect in your voice. For example, there was a spot in my script of a teenager coming home and searching in the fridge. Rob emphasised the point of really making it sound like you were searching and not just read the line, so all those additional grunts and groans of frustration and muttering under the breathe as if you were really doing it. It's such a key thing to really developing convincing characters, I do the same with my "old man" voice where I breathe slightly heavier, let those wheezes come out in my voice and add a bit of a speech impediment, it can be the little things that really nail a voice! Rob also mentioned about ensuring the characters are authentic, Rob jumped on me when I automatically dropped the "g" from "going" when doing a Southern Accent and pointed out that's exactly the little nuances that make a character authentic. If I'd pronounced the "g" it may have been passable for the accent but would have jarred in the ear and pulled away from the context of the performance.
Rob and I talked for a good 2 hours (all of which I recorded), we went off on plenty of tangents about British comedy and some Peter Cooke and Dudley Moore sketches (none of which is suitable for this blog!) but we had a great time and it was a real pleasure getting to pick his brains about the industry.
So from there it was straight down to check-out and head to Demo's that Rock in Sherman Oaks for the climax of my stay!
I had about 5 hours available at the studio before I needed to leave to make my flight and boy was it going to be fun! The situation wasn't without it's pressure though, here I was in LA, I'd flown all the way from the UK, spent a lot of money and had to perform for demo's that were hopefully going to advance my career to the next level and represent me for the next 5 years. Not to mention the fact that through the glass was none other than Chuck Duran and Richard Horvitz!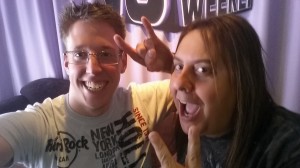 Thankfully though, voices are my passion and when I'm performing everything else falls away so I can honestly say I enjoyed and adored every second. Working with Chuck and Richard was a fantastic experience, it was so surreal to look through the window and see them working away, standing in a studio in LA and performing character voices. It was everything I'd ever dreamed of since I was a child and I could have stayed in that booth forever. It took us about 2 hours per demo to get all the tracks recorded, it was great to work with such professional talent. I was also so glad I'd asked Richard to come along and direct because as expected after working with him beforehand he knew what he could get out of me!
I actually recorded footage of each of the sessions which you can see here:
Animation: http://youtu.be/8GywXOy0KfM
Gaming: http://youtu.be/7XHa0kRxJzU
I also managed to get myself a parking ticket while I was there, something I considered to be a badge of honour! Chuck insisted on paying it for me which was unbelievably nice of him, I have to say that Chuck is one of the most genuine, passionate and friendly people I have ever had the pleasure of meeting. He also insisted on recording this testimonial for me (http://youtu.be/DBlyeOu3X-4) which I think has an important message for anyone wanting to get into Voice Over and that's to take it seriously and chase those dreams.
So after all the recording it was straight off to the airport and 24 hours of travelling!
My time in LA was everything I'd hoped it would be and the demo's I've come away with were worth every penny. There's an important message from this experience though which is that if you want to reach the top of any career you chose you need to surround yourself with the best people in that industry and be prepared to invest money in yourself and in your business. You won't get anywhere unless you take it seriously and have faith in yourself to invest in YOU!
I have to say another big thank you to all of you that may be reading this as well. I received so many tweets, emails and messages from all sorts of people who'd been watching my video blog and tweets and were interested in what I was doing or just wanted to wish me success. It was so utterly humbling, especially to have people call me an inspiration, if I have inspired anyone to follow their own dreams through watching me chase mine then I'm a happy man.
Everyone deserves to spend their life doing what ever it is they are truly passionate about, so go get it!
Here's my final video from the trip with all my thoughts: https://www.youtube.com/watch?v=sJxfLsVnimM
And finally, here are the two finished demo's!
Animation: https://soundcloud.com/voiceofjaybritton/animation-reel
Gaming: https://soundcloud.com/voiceofjaybritton/video-games-reel
Thanks for reading and if anyone wants to pick my brains or ask my advice please don't hesitate to get in touch!
Jay