Meet All-American Voice Actor Mark Atherlay
It all began with Mrs. Doubtfire.
Tired of his 9 to 5 job, Mark let himself get bitten by the voice acting bug, or should we say burned by Mrs. Doubtfire – and he never looked back.  What started as child's play, turned into something serious…something Mark Atherlay can say he is very passionate about.   He has found his inner Daniel Hillard and he enjoying every minute of it.
Have FUN and get PAID!
Well, ever since I was a kid, I had a knack for imitating family members, teachers, neighbors, radio DJ's and celebrities. Y'know, just goofing around kinda stuff. Then, in 1996, I saw Robin Williams in Mrs. Doubtfire and in that opening scene, where he's voicing the Tweety Bird character, it just hit me. Wow! That's an actual career that people get to DO! Have FUN and get PAID for it! (At the time, I was working in a 9-to-5 corporate atmosphere and it was pretty miserable. I really didn't have the passion to climb the corporate ladder while working in beige cubicles for 40-60 hours a week.) So, almost immediately after watching the film, I started looking around for Voiceover classes. I was living in San Francisco at the time and there turned out to be THREE Voiceover schools in the Bay Area! How lucky was I? I started taking classes at night or during the weekends honing my voiceover acting craft from virtually nothing (apart from some high school theater.) After about a year of taking a variety of classes in commercial, animation/video game characters, narration, etc., I took a class with a guest teacher who was an agent from a local San Francisco talent agency. She liked what she heard in class and asked if I'd be interested in showing up at the agency the next day to try-out for an audition. Boy, would I! They tried me out for a couple months and I ended-up with my first booking: a radio spot for a local San Francisco sports shop. I was over the moon! I've been with them ever since.
Just. Be. Me.
I can't say I've had an exclusive mentor but sometimes you can be inspired by a professional in the field.  As previously mentioned, I'd say Robin Williams was the one who lit the flame and was a mentor of sorts.  Also, all the great teachers I've learned from in San Francisco: Taylor Korobow of the now-defunct Voice Factory, Elaine Clark and Samantha Paris.  And here in L.A., where I now live, Pat Fraley, Nancy Wolfson, Joyce Castellanos and Jeff Howell continue to be a great help in further honing my skills.  Along the way I also studied the works of other greats whose careers I appreciated such as, Frank Welker, Daws Butler, Don LaFontaine, Joe Cipriano, etc.  For me, the most invaluable lesson I've received over and over is to:  Just. Be. Me.   I do a lot of 'guy next door' commercial auditions and the main thing to remember is NOT to try and be EVERYBODY'S 'guy next door' but just to be Mark. If they wanted a 'New Yawk' guy next door, they'd hire more of a natural New Yorker.  If they wanted an Asian 'guy next door', they'd hire an Asian actor.  If they wanted an African American, they'd hire an African American.  Be yourself.  No one has heard YOU yet!
I don't like to leave clients waiting
My latest project was with The Voice Realm.  It was a 49-page Corporate Tutorial/Narration project.  For me, that was a loooong one! The client was very pleasant and really let me do it in my own time. Of course, I did it all in one sweep, with a small break in the middle.  I don't like to leave clients waiting.   My most memorable work so far was also with The Voice Realm.  It was a recent Skype session with a very nice client in Amsterdam for a project that involved Morocco.  Of course, it was an English-speaking gig, but we had to directly speak with each other so I could get certain Moroccan phrases down correctly.
Geeks against the wall
I love the camaraderie of my fellow voice talents. They're the least 'affected', most grounded, fun, good-natured folks.  I think we were all the geeks against the wall in high school making-up silly voices, or doing school plays, and not really caring what all the 'cool' kids were doing.  Now we get to have fun making money doing what we love.  The VO world seems less judgmental of each other than others forms involving 'talent'.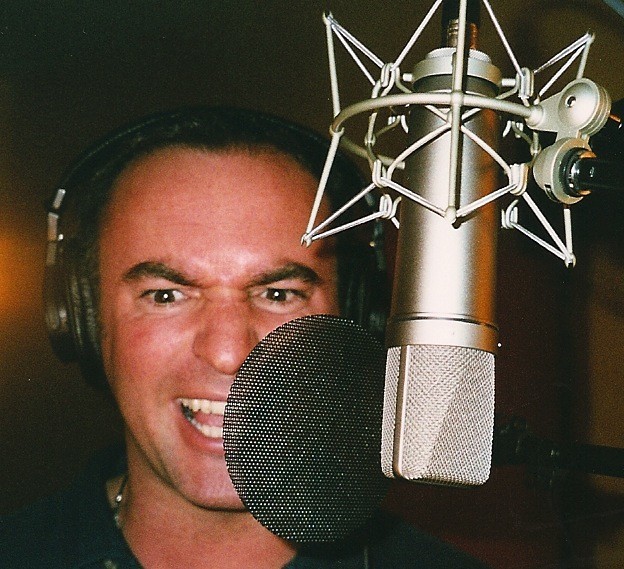 There is fun in Pay to Play
Sometime in the mid 2000's, I joined the first Pay to Play sites and I found the whole organization of those sites to be fairly confusing, overly expensive in terms of joining-up, and the sheer numbers of other talents responding to each audition was overwhelming to me.  I found them to be a grand waste of time, simply due to the sheer volume of people auditioning and undercutting each other.  But it was not a lost cause for all P2P sites. With The Voice Realm, I feel very much 'in the running' for most auditions.  It's nice not to worry about 'rates' either!  Initially, things were a bit slow for me but I understand it takes time to get footing and establish yourself.  But overall, I've been incredibly grateful with the quantity of auditions that come my way and the amount of bookings that have sprung from them.  I generally find TVR staff to be quick with an email reply to any inquiries I may have.  My only suggestion would be to find another way to pay talents as PayPal takes out quite a chunk for using their service, and sometimes PayPal-to-bank transfer times can take 3-4 business days.  However, my experience overall has been fantastic.
It's a necessity!
Home studios all the way!  With technology the way it is, setting-up a home studio is not as difficult or as costly as it might initially seem.  I mean, when I started, I never dreamt that I'd be recording from home.  But over a fairly short period of time, it became a necessity to remain competitive.  (Also, most clients utilizing The Voice Realm will most likely NOT want to pay any extra studio fees if they can pick another talent who's already up and running.)  My set-up is really simple and it helps me to audition/work not just for The Voice Realm but for my agency here in L.A. as well as agents in other cities.
Read. Listen. Train.
One of the first books I ever read was incredibly inspiring: 'Secrets of Voiceover Success' by Joan Baker.  It features the perspectives of many voiceover actors and how they made their way into the field.  I would also suggest going to different sites that list demos of the pros who are really 'working it' in order to hear the level of talent you could be up against and aim at least that high.  Websites like The Voice Realm let you listen to talents for free.  Check your area for voiceover classes and take them whenever you can afford them. For me, it was great to get to learn voiceover with a set of peers at my same level.
Wade before you swim
This is just me, but I suggest taking classes for AT LEAST a year before even considering making a demo.  You really need to learn your craft, understand your strengths, and think about what area of VO you really want to be in – whether it be commercials, animation, video games, narration, promo, audiobooks, telephony.  Each has a different technique ans set of tools.  Get to know them and see if they're for you.  (I, for one, would not enjoy recording audiobooks so I tend to leave it to those prefer longer, more involved recording sessions.)  Yes, plenty of producers will only be too happy to take your money to make your demo but it doesn't mean they have a vested interest in you. Also, agents have told me this in no uncertain terms, when they are listening to a demo, agents know in the first 6 seconds if the voiceover talent 'gets it' and knows what he/she is doing.  Don't waste your money on recording a demo or purchasing expensive recording equipment until you know your strengths as a voice actor.  Learn in a classroom setting with other aspiring talents.  Maybe even try some improv classes to creatively loosen-up.  Or, if there's nothing in your immediate area, see if you can find voiceover coaches who might do Skype sessions online.  Also, here's a free tool: don't fast-forward through commercials.  Listen, watch and study what's airing these days.  What's popular?  Do you notice any trends? What type of products might best suit your vocal style?
Surround yourself with good people
I was absolutely gutted upon learning of the death of Robin Williams.  He was such a hero to me. I think the biggest lesson I might have learned from that was to surround myself with good people, in and out of my career.  A good solid community can truly be a life-saver whenever I have doubts about my career, my life, or my overall outlook on things.  People I can really be honest with, clearly communicate with and who can help put things in perspective. Sometimes the worst place to be is stuck in our own heads. (Remember that great U2 song, 'Stuck In A Moment You Can't Get Out Of'?) It's often good to bounce ideas off of other people. Thank God we're not all crazy on the same day!
For a very successful voiceover talent, Mark has his feet firmly on the ground.  He is successful at what he does because he knows his strengths, loves what he does and is passionate about voice acting.
Hear more of Mark's talent.  Go to his profile for a free audition or hire him directly.