Get Into the Voice Over Buzz with Chuck and Stacey
Who has not heard of VO BUZZ WEEKLY, the biggest web show created and hosted by two voice over industry greats Chuck Duran and Stacey J. Aswad?
Voice Over Herald had a chat with Chuck Duran and Stacey J. Aswad about their show and all about the industry. But first, let's learn more about these amazing duo…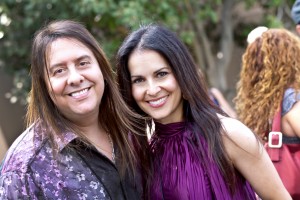 Chuck Duran started producing voice over demos for many clients with top agencies in Los Angeles more than twenty-five years ago. "My demos stood out right from the start because they were tailored to the specific needs and wants of agents, casting directors and talent buyers, and they still are to this day."
"I have produced thousands of commercials for companies such as Nike, Chevrolet, Budweiser and so many others, I am the co-founder and lead guitarist for the Heavy-Metal / Pop mash-up band, Rock Sugar, and have written and performed songs for award winning movies like "My Cousin Vinny" and "Mulan", for TV and film companies such as Warner Brothers, 20th Century Fox, Paramount Pictures and Disney."
"I take immense pride in consistently turning out the best voiceover demos for my clients, as well as offering them additional resources like a customized marketing plan and professional guidance, which I believe are some of the reasons I have clients not just in Los Angeles, but from all over the world. It means so much to me to help people achieve their dreams in voice over and life."
After graduating with a BFA in Dance from The Juilliard School, Stacey J. Aswad pursued a diverse professional performing, choreographing and teaching career. The stage led to the theatre and then TV and film opportunities including becoming the resort TV host for Walt Disney World's "Top 7 Must Sees" and "Must Do Disney", since 2005. This exposure was the catalyst for her to move to Los Angeles.
"I have been performing my whole life pretty much, starting with competitive artistic roller-skating that would eventually lead to five national championship wins. What can I say, we didn't have cable TV growing up!"
"Two weeks after I arrived in LA in 2007, I met the man who would change my life both personally and professionally, Chuck Duran. We recorded my rockin' VO demos and the rest is truly history."
"I have been working full-time ever since, on-camera and on the mic with clients like Nescafe, McDonald's, AT&T, Carl's Jr., Time Warner, Acura, Bud Light, Clairol, Subway, Toyota, PBS, Discovery Kids, Disney, McGraw Hill, Penguin Random House and others. I'm on a fabulous roller coaster I never want to stop riding!"
So on with our little Q & A…
VOH: What is VO Buzz Weekly and what inspired you to create the show?
C & S: VO Buzz Weekly is the global web show that is inspiring, educating and entertaining viewers in over 80 countries around the world. It's the show where aspiring voice actors, established VO pros and curious fans alike can finally put a "face to the voice" of the mega-talented voice actors from cartoons, animated films, movie trailers, video games, TV promos, audiobooks and commercials. You'll also get the inside scoop from top voice over agents, directors tech gurus and other industry pros.
Every week we get up close and personal with our special guest as they share fun and poignant personal stories, insights on how they became so successful, reveal tips, techniques, products and equipment they use to maintain their voice, create characters and continue to stay at the top of their craft.
Stacey and I wanted to create a show that would celebrate the industry we both love in a unique way, with an entertainment talk show format. We wanted to have fun most importantly and make it exciting for people to watch. We wanted to give back which is why the show will always be free!
VOH: How's the experience and partnership been like working on your show for the last four years?
C & S: We are in our 4th year now and it is more meaningful to us than we could have ever imagined on so many levels. We have learned so much about ourselves as individuals and partners and formed life long friendships with amazing people. We have an incredibly talented crew behind the scenes who help us bring our vision to life and we are so grateful for them. We have become wizards of digital branding, social media and website development which is an ever evolving and humbling learning curve, to say the least.
VOH: What's your favorite topic to discuss in your show?
C & S: We love talking about how people got started in the business and what advice they can share to aspiring voice talent because everyone has a unique path layered with all kinds of triumphs and challenges that they needed to overcome to become successful. We have found that within those stories there is invaluable information that helps people in all aspects of the industry.
VOH: Do you have a favorite question to ask your guests? And what's the best answer you've gotten so far?
C & S: What have been the keys to your success?
What advice have you gotten along the way that has helped you in your career?
The best answer that many of our guests have said in a nutshell is, "never give up especially when you are down because in a moment… things can change and everything that you've been working so hard for, comes to fruition."
VOH: Who is your most memorable guest so far?
C & S: That is an impossible question because every guest has literally left some piece of inspiration, wisdom and heart that has helped us, and our viewers. We have also laughed harder than ever especially with the spontaneous things that fly out of someone's mouth, be it theirs or ours.
Andrea Romano was a brilliant guest who we spent hours talking with and we dedicated three episodes to her epic career. It is now known as the Andrea Romano Trilogy!
VOH: We would love to know your thoughts about the industry. For you, how has the industry changed over the last 5 – 10 years?
C & S: The industry is constantly changing evolving and those in it need to become really savvy at not just having their skill sets finely tuned in front of the microphone, you need to be a smart businessperson. You are the CEO of your own company and need to act accordingly. It is not enough to have talent and killer demos, these days, you need to know how to network and maintain professional relationships, have a keyword optimized website viewable on every gadget, a responsible social media presence, have the curiosity and humility to know when you need to step up your game and most of all, know what the current trends are in the industry. Think about it, how can you offer something to a business when you don't know what the business needs you to offer?
VOH: What are your thoughts about online sites? Do you think these sites are a threat to the traditional agents?
C & S: It is a hot topic right now and it's here to stay for sure.
For many people we know, especially those outside the larger markets, online sites are their livelihood and vehicle for them to pursue their voice over careers. Our feeling is that voice talent need to know their value and set their rates accordingly. When one person agrees to do a job for a sub standard rate, it hurts everyone whether they are on that pay-to-play site, in the SAG-AFTRA union or not.
They are devaluing themselves and all the hard work and sacrifices they chose to make as well as the industry at large. Voice talent on these sites who are not operating with business integrity are basically telling talent buyers and brands that they can go online and get bottom dollar rates, this is not good for anyone.
There needs to be an honest, coherent conversation with all parties involved to find a way to coexist that is not detrimental to this amazing business and especially the hardworking talent in it. There is an organization out there right now called World Voices (WoVO) that is tackling this and other pertinent issues head-on. We encourage everyone to join so you can get more information and let your voice be heard. Here's their link http://www.world-voices.org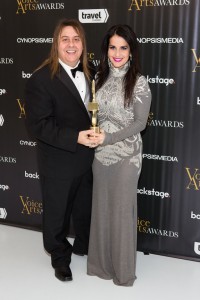 VOH: Where do you see the future of the industry?
C & S: The future of the industry is growing bigger, brighter and bolder everyday and it is in every aspect of people's lives. Everywhere you go you hear voices and someone needs to provide that service, recorded or live. There is room for everyone in some way if you position yourself with the right skills, tools, knowledge and integrity. The possibilities are truly limitless. We talk about this kind of stuff all the time on VO Buzz Weekly.
VOH: Chuck as "The Master" director and producer, what's the best 3 tips you can give a voice over newcomer for them to create a "Demo that Rocks!"
Chuck: Thanks for the compliment!
1. Get the best coaching possible with the most reputable people in the business.
2. Don't record your demo until you're 100% ready, so it can actually help you stand out and you can use it to launch your career in the right direction.
3. Don't let anyone produce your demo unless they specialize in demo production. This is a big mistake people make and it comes back to bite them later on. You don't hire an electrician to paint your house, right?
VOH: Stacey, you are quintessential artist… you have done Disney World, theatre, you're a TV Host, Voice Actor, Spokesperson and Actress, from all the work you have done, what is the best experience and learning can you share with aspiring voice over actors?
Stacey: That is very kind, thank you. I'm a work in progress always striving to be my best, raising the bar for myself everyday.
I think that every kind of life experience you have and the people you meet along the way can teach you something to do or even not to do. This will inform you as an artist if you let it, and it will make you better, stronger and fearless. I have a few mantras that live within me always:
• Failure is not falling down, it's not getting up when you have the choice.
• Never lower your standards to accommodate those who refuse to raise theirs.
• Have your own back, be your own best friend and believe in yourself no matter what.
The bottom line is that there will be ups and downs along the way, it's part of everyone's story. Life doesn't always have to be perfect to be wonderful, because you have the power to choose how you look at it and how it will define you.
VOH: Final words… please invite our readers to watch VO Buzz Weekly and please share what they can expect next.
C & S: There is truly something for everyone to appreciate within the episodes of VO Buzz Weekly, no matter what level you are in your voice over pursuits. All of our guests are very generous with sharing their experiences and wisdom and we take great care in selecting our guests and producing the show because we want our viewers to walk away each week with more knowledge, more confidence in themselves and more inspiration to follow their dreams.
---
Always be updated with what's happening in VO Buzz Weekly… check out their videos, Facebook and Twitter.