Do You Believe You Have Cracked the Voiceover Code?
The voiceover industry is now more open than ever to people outside of any traditional entertainment experience. This means that there are lots of people (excluding starving actors) who don't know the value of what they're getting when it comes to educational events, networking opportunities and private training.
Next month The Museum of the Moving Image in New York City will be the venue for Cracking the Voiceover Code that will answers questions like "How do I break in?" and "How do I stay in?".
It's for those who are already working in the industry, and looking to secure their longevity through scoring high-end projects and contracts that make longevity possible. And for those new to the industry, events like these are an eye-opener as to what you can expect, and also an insight into the long slog that many will endure before cracking that first gig.
Voice Over Herald spoke with Rudy Gaskins, Emmy Award-winning Creative Director and CEO of Society of Voice Arts and Sciences and Joan Baker, award-winning voice actor and author of Secrets of Voice-over Success to find out more.
[hr]
What can attendees expect at the event?
RUDY: First of all, they can expect Pat Fraley to keep them on the edge of their seats with a depth of knowledge, insight and humor that has enthralled audiences the world over, as a lecturer, teacher and the voice of over 400 animated characters seen worldwide in film and TV. As a former creative director, Pat will facilitate the conversation so that audiences truly get underneath how our exceptional business panellists make the decisions that connect voices to careers.
My partner, Joan Baker, and I have made it our mission to produce the most unique voiceover events by insuring that the focus is on gainful employment and inspired pursuit. You have to cultivate a passion and you have to surround yourself with super talented people. Attendees can expect to be satiated by the sheer volume of practical insight from extraordinary voiceover professionals, who will be locked in on what it takes to work – to live the life of a successful voice actor and not just dream about it. Beyond the practical knowledge, attendees will participate (by lottery drawing) in an actual audition process conducted by these same pros, with audience members on stage at the microphone. At stake, so far, is a chance to win two VIP tickets to the Late Show with David Letterman and a private career consultation with our own Joan Baker. I'll leave out a couple surprises, just to keep it interesting, but the big show will be followed by a networking reception to swap ideas, cards and more info toward achieving success. And let me not forget the attendees who want to become producers, agents, casting directors or creative directors. These career opportunities will also be covered. And attendees with these interests will be talking to the people who hire these positions. But what always puts a smile on my face is that, even if you know the voiceover industry is not in your future as a career option, you'll be fascinated by the intricate, behind-the-scenes goings-on that make this vibrant voiceover world the multi-billion dollar industry that it is!
Why people should attend?
JOAN: The biggest question regarding the voiceover is industry is deceptively simple: "How do I break in?" The answer, however, is actually much deeper and far more interesting than anyone expects. For those who are already working in the industry, they're looking to secure their longevity through scoring high-end projects and contracts that make longevity possible. Either way, skill enhancement is critical and ongoing if you want success. People should attend if they want the answers to either of these questions. For the savvy voiceover practitioner, she should attend because there is nothing anywhere that is more innovative, more forward thinking, more inspired than the way we bring together talent to serve those eager to learn?"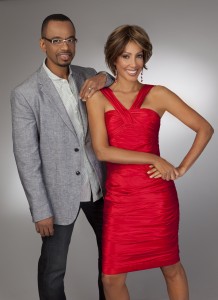 How it's different from other industry events?
RUDY: How we're different is too complex to put into words. Why? Because it comes down the team of extraordinary talent who help us bring our promise to the attendees. It's like asking what makes one sports team different from another. It's not just who you get involved, but knowing how to involve them so that you maximize the total experience for the attendees, the stage participants and the sponsors. This is not a one-way exchange. It's a dynamic exchange where everyone has the opportunity to move their personal objectives forward. We're about helping people to achieve real success that is in line with their dreams and beyond.
What should people expect to invest?
JOAN: The default attitude for most people is to become more concerned with the cost of attending an event like this one than they are with the goal of actually achieving a career. They seem to want someone to do the hard, tedious work of providing them with a cheap way to learn to swim from the edge of the pool. Well, the only way to learn to swim is to get into the water. Common sense will tell you if the water's too murky, too rough, etc. It's quite annoying when people start from a place of wanting a six-figure career for dime store training. But, the good news is that those who will be successful, understand that you don't get something for nothing and those people are willing to risk something for their dreams. Now, the reason I went on a bit about this little pet peeve, is because we made this particular event possible for just $65, which is far from the norm for this kind of production. It's because the ticket price is supplemented by the Museum of the Moving Image and the Society of Voice Arts & Sciences that we're able to set the price this low. Hopefully, attendees will take advantage of the great price and pass the saving on in the form a donation to an amazing Museum. Museum members, by the way, can snag a ticket for just $39 dollars!
[pullquote_right]"But what always puts a smile on my face is that, even if you know the voiceover industry is not in your future as a career option, you'll be fascinated by the intricate, behind-the-scenes goings-on that make this vibrant voiceover world the multi-billion dollar industry that it is!" – Rudy Gaskin[/pullquote_right]
How would you sum up the big idea?
RUDY: The big idea behind Cracking the Voiceover Code is to reveal the puzzles pieces that make up the voiceover industry from the producers to the voice talent to the consumer. Each of the panelists represents a piece of the puzzle; from promos and commercials to gaming and feature film ADR to animation, toys and audio book narration. The panelists also represent both sides of the microphone as voice actors, creative directors, producers, agents, etc. If you're the shy type, you'll enjoy a great show in the comfort of a beautiful theater and architectural splendor. If you're a hungry go-getter, you'll find yourself in the pack with the fastest horses on the planet. go for it.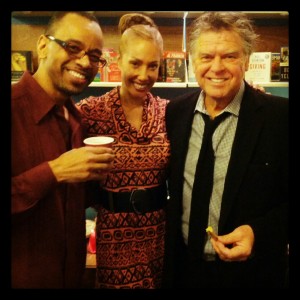 Why choose the Museum of The Moving Image?
JOAN: We partnered with the Museum of the Moving image to a sold-out crowd in 2006 featuring some of the voice talent behind the stories featured in my book, Secrets of Voice-over Success. Alan Kalter (Announcer, Late Show with David Letterman) and Don LaFontaine (voiceover mentor to the industry) were host and featured guest, respectively, along with a brilliant cast of remarkable voice actors. As the show grew, we needed larger venues and it took us on a national tour with what is now known as That's Voiceover!. It was our good fortune that the Museum kept an eye on our progress over the years and asked us to consider mounting another show with them. With the newfound wisdom and experience to scale the production to the Museum venue and, of course, flattered by the validation of such a prestigious invitation, it was a "yes" proposition through and through. But there's more "why" to the "why" than that. We've always sought to match the importance and promise of our events with a venue or institution that shares likeminded ideals. Rudy and I have witnessed it first hand; People learn differently and better when the learning space maximizes and embodies the value of the education being offered. As Rudy once put it, "They not only learn more deeply, but they honor what they're learning when we honor how we deliver it." Our mission has always
been to elevate and expand the conversation around the voiceover industry so as to help people achieve the best possible career outcomes. The Museum of the Moving Image curates the largest most impressive exhibit covering all aspects the moving image, both historic and contemporary. Equally important, it maintains a maniacal focus on educating people in practical ways, and has become the home of most every top actor and director to sit down and share their art in-person with museum members. We are tremendously blessed that the museum actually chose to work with us again and we are thrilled to share this event in the embrace of their enormous commitment to educating the world about the arts and sciences of the moving image.
[hr]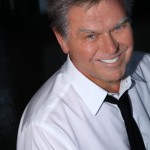 Cracking the Voiceover Code is also hosted by award-winning voice actor, teacher, and lecturer Patrick Howard Fraley.
Those interested in attending can reserve tickets online or call 718 777 6800. Prices are $65 public and $39 Museum members.
What's the number one thing you look forward to when attending these voice over industry events? Let us know in the comments section below.