British Voice Actor Travels to LA to Record New Demo – Chasing the Dream
Jay Britton recently made the trip across the pond to hit up some of the most respected voice over coaches to piece together a new demo. He writes exclusively for Voice Over Herald about this whirlwind trip and experience. [hr] Just over 2 weeks ago I was packing up my suitcase and getting ready to jet off to what turned out to be 5 of the best days of my life, I was flying from the UK to Los Angeles to work with some of the best and the brightest this wonderful industry has to offer. The main driving force behind this was to record two new reels, one for animation and one for video games. If you happen to follow my blog you'll know all the back story to this but in case not, here's a story that explains why this was so important to me –  and here's another that explains in depth what was planned over in LA.
However, working to the assumption that time is of the essence as it so often is on the Internet suffice it to say that working in Voice Over and specifically animation and video games has been a dream of mine since I was a kid. I made a different choice and ended up in IT and now I'm trying to right that wrong. As for who I was going to meet, well it was something of a stellar line up:
Richard Horvitz – Highly respected actor in shows such as Billy and Mandy, Angry Beavers and most notably the lead in Invader Zim Donna Grillo – Casting director with some 15 years experience, responsible for casting shows such as the Rugrats and Sponge Bob!
Nancy Wolfson – Highly respected voice coach, previous casting director and talent agent – she knows her stuff!
Rob Paulsen – Emmy award winning actor, featured in such shows as Animaniacs, Teenage Mutant Ninja Turtles and Biker Mice from Mars Chuck Duran – Highly respected demo producer and member of the Rock Sugar band, fantastic reputation for producing amazing demo's!
So on a Saturday I flew out, full of nerves, full of excitement, sleeping on the plane was certainly a no-no regardless of how hard I tried, I was just too excited! A lot of time and preparation had going into this trip, not only in the logistics of getting so many people together for only 2 days but in actually getting myself to a point where it was worth the expense. There would have been little point in this trip if I wasn't at a place where my acting and vocal ability were sufficient to make the most of the opportunity.
After a 11hr flight involving 3 drinks being spilt on me by the gentleman sat next to me, a 2hr wait at customs, a 90 minute wait to get my car and a hour long drive across town, I finally arrived at my hotel, ok, now I was tired! One quick video blog later and it was time for bed! Sunday passed by quickly as I spent the day experiencing Universal Studios Hollywood, which was of course fantastic! Even going around the park I was listening to all the VO work that was around me, ride announcements, information announcements, funny little sketches in queues, VO really is everywhere! The night was spent at the hotel diligently working on copy for both of my reels.
Sunday evening was full of nerves as Monday would bring the first of my meetings with Richard Horvitz, Donna Grillo and Nancy Wolfson!
Up on Monday and straight out across town to meet with the fantastic Richard Horvitz. I had been working with Richard over Skype for around 2 months, I'd engaged with Richard as a coach specifically on my animation reads. I cannot recommend Richard highly enough, his processes and methodologies for getting you in to character and importantly understanding your script are phenomenal. Something that becomes so evident from working with someone like Richard is just how true it is that a funny voice isn't enough, you have to be able to act. It's always been something that annoys me that voice actors are some how seen as lesser actors by some within the industry. Any voice actor worth his or her salt is first and foremost a fantastic actor and performer and with no-one is that more apparent than with Richard. It's something I cannot emphasise enough to anyone looking to get into "Voice Acting", forget the "voice" part and concentrate on the acting. So Richard and I worked through some of the copy for my reels and some new copy we were looking to add in and it was fantastic fun. One point that came out though was that despite working with Richard for a few months beforehand I was still nervous to perform in front of him, being behind a webcam on Skype had made that all important difference. Again this raises another point, especially in today's voice over landscape where a lot of stuff is recorded from home, it's important to ensure you are comfortable performing in front of people as you never know when you may get that call to have you come in to a studio for either a job or that big audition. Thankfully however I do have a long history of theatre and musicals behind me so after a few takes I relaxed and got to work, in addition to being a great actor Richard is also a wonderful director and knows how to get a great performance out of you. It was for this reason that I asked Richard to come along and direct my demo's which thankfully he agreed to!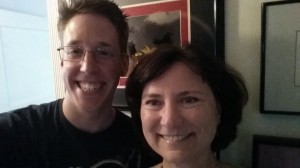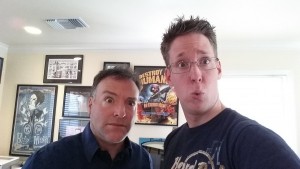 So fully prepared for the reels I headed off from Richard's house and went straight over to Donna Grillo. I had been pointed in Donna's direction by my commercial coach Nancy Wolfson and boy was I glad she did. As mentioned above Donna is an extremely well known and respected Casting Director and has worked on some of the biggest cartoons over the last 20 years, in fact I think she's responsible for casting most of my childhood cartoons. Before I met with Donna I had sent her over 3 different audition takes from 3 different scripts, over the course of the next two hours we'd go through them and break them down and discuss the industry as a whole and what it takes to get somewhere. Of course, for me this was an amazing meeting, I mean it's not every day that you get to sit in the same room as the woman responsible for casting a phenomenon like Sponge Bob and have her tell you what she thinks of your reads! More than that though Donna is an incredibly nice person and wonderfully friendly, she immediately makes you feel at ease. Breaking down my reads with Donna one thing that shone through was the importance of really creating an environment for your characters to live in when you're reading for them, really visualise what is happening and let that come through in your performance, the fact that you only have your voice to do it with should be irrelevant.
After spending the afternoon with Donna it was back to the hotel for a bit of a breather before heading out to Brentwood for dinner with Nancy Wolfson!
Nancy Wolfson, well what can I say about Nancy! I've been working with Nancy for the best part of 2 years, working my way through her material before recording my new commercial demo with her 2 weeks before I left for LA and I cannot say enough good things about her. Her brain is razor sharp and her knowledge of the VO industry overall is, in my opinion, second to none. Her techniques and processes for commercial copy are amazing and produce amazing results, working with her on my demo was an awesome experience and the result I think speaks for itself. If you are looking to get into Voice Over I can't think of a better place to start than with Nancy. I will say this though, you'd better be at your best when you work with her as she'll demand it of you and won't accept anything less! This is part of the reason why Nancy is such an effective coach, she may tell you that read was bad but then in the most succinct and intelligent way tell you exactly why and importantly how to fix it. As you can see no way could I travel all that way to LA and not find time to finally meet Nancy in person!
We went out for Sushi in an amazing restaurant in Brentwood, as a newcomer to Sushi Nancy guided me through it as effectively as she did in VO (I recommend the Rock Shrimp!) However it also gave me an opportunity to pick her brains about many things, what my plans were for my demo's, my branding, where I could live if I moved to LA, opportunities for a man of my particular skills and again the industry overall. One important thing that came out was to be realistic about the income involved in VO, a great phase that came out was "don't associate sparkle with dollars". This was something that Donna also alluded to, just because your voice is on TV a lot you can't necessarily assume that means a 7 figure pay check and big house in Malibu, there is still work to be done!
That could have been a disconcerting thing to hear but in actual fact it made the idea of moving to LA and working in animation more attainable as I didn't have to think of trying to attain an unrealistic level of success that perhaps doesn't even exist.
So after Sushi and Sake it was time to head back to the hotel and get a good night's rest for the all important demo day!
Tuesday was to consist of meeting the amazing Rob Paulsen in the morning followed by demo's in the afternoon! Check back for part 2 of the blog to hear how that went and to hear the finished products!
Thanks for reading!
[hr]