5 Tips to Creating Your Memorable Voice Over Tagline
When we talk about creating a brand, one immediate thought aside from creating a logo that represents your brand message is tagline.
A tagline (or slogan) is a phrase that sums up what your business or service is all about. In a single line it should be able to communicate your brand identity or the outcome your clients will experience.
But creating a tagline is not as easy as saying "Number One Voice Over in New York" or "Your Professional Voice Over" or "The Voice of Today". A great tagline should be credible, something unique, and more importantly relatable to your client base.
Here are 5 tips to help you create a memorable tagline for your voice over business.
Focus on your client
When creating a tagline focus on what connects your clients to your business. Don't just look at the service you provide but the emotion and outcome you want your clients want to experience. It is about them, not about you.
Keep it short, sharp and succinct
"Just do it!" "Happiest place on earth" "Think different"
The most memorable taglines are the ones that are short and direct to the point. These are the taglines that can make an immediate connection with their consumers, and cements their brand over their competitors. Don't just put adjectives together as this is not effective and does not bring a lot of substance. Think out of the box but keep it real to your brand.
Brainstorm
Sit down and brainstorm, whether by yourself or with your team. Think about your unique selling point (USP), and again the benefits and the outcome your clients will experience after working with you.
List all the words you can come up with that would create an emotive response. Trim it down and then trim it down even more. As you go through your list you would be able to come up with 3 or 5 possible taglines. But if you do hit a wall, you can always reach out to copywriters who can help you put all things together.
Share
Once you have your short list share them with your friends and family. Though they would have the tendency to agree to anything you like, ask them specific questions to help you make an informed decision. Do they understand it?  Does it connect with your brand? Does it makes sense?
If you already have a client base, share it with your closest and longest client and see how they would respond.
Repeat
For a tagline to be memorable to your community and clients it has to be repeated and visible.
Put it in all your collateral. On your website. On your social media accounts. Hashtag it whenever you post. Let them hear it in your demo. Keep repeating it until it becomes a buzz.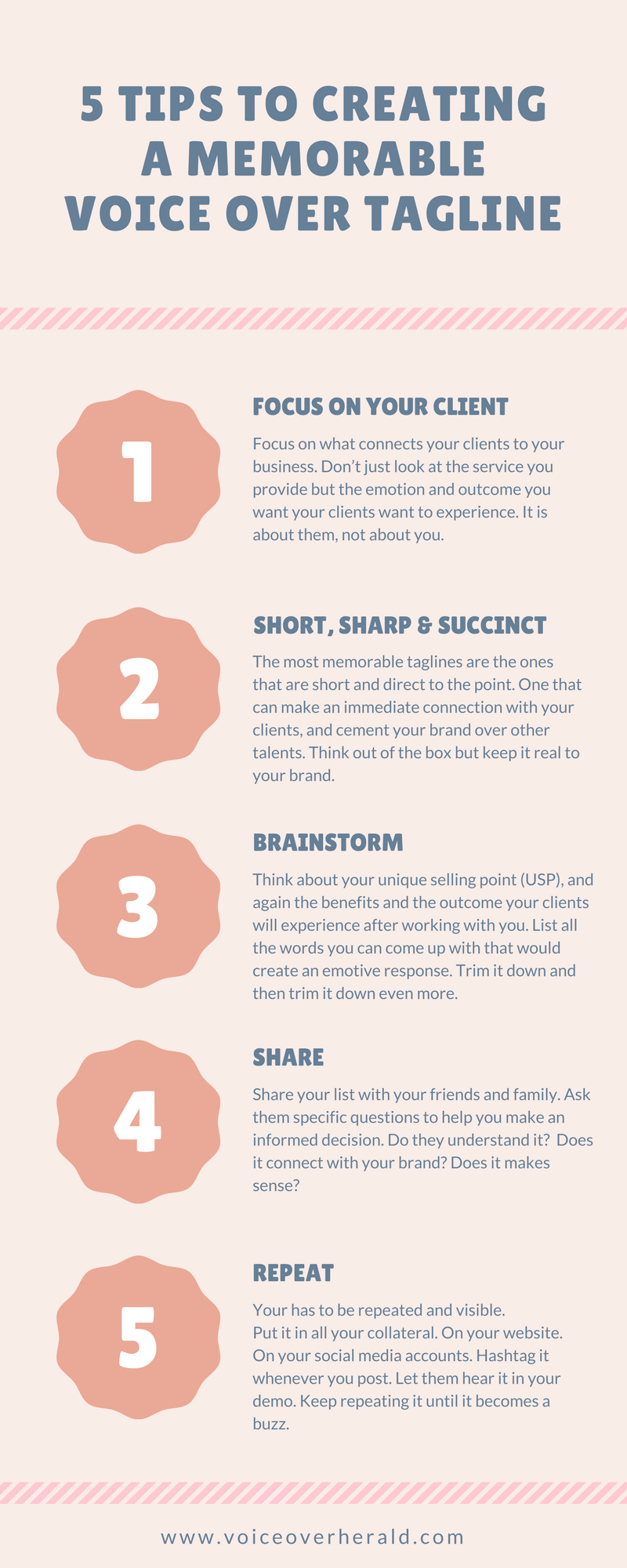 A tagline can be as important as a logo itself. An effective tagline can mean when people think of you they immediately think of your tagline, and when they think of your tagline they think of you. This instant recall would help you to be always in front of mind of your clients.
---
Do you have a tagline? Has it helped you push your voice over business?