Voice Actors Who Inspired the Look of Their Characters
It is now common knowledge that voice actors often inspire not just the looks of the characters they play but also the little idiosyncrasies of the characters.  Especially in the days when everything was drawn by hand, artists worked with the actors as reference models for the characters' features and mannerisms.
Inspired by the recent post of MoviePilot, we make a list of our own.  Though not everyone in the list play human (or near human characters) you can still see the uncanny resemblance.  Here is our list of voice actors side-by-side with their twin character.
Adriana Caselotti and Snow White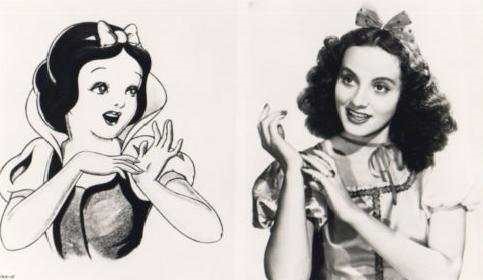 Adriana Caselotti became the heroine Snow White in Disney's Snow White and the Seven Dwarfs in 1937.  Caselotti exclusively worked with Disney and was prevented to do any other work as the big man himself once said he does not "want to spoil the illusion of Snow White."  She was eventually able to do some uncredited work as Juliet in the The Wizard of Oz and Frank Capra's It's a Wonderful Life.  Though Marge Champion was later on credited as the reference model for Snow White, you can still see the semblance of our first Disney Princess to the beautiful American singer and actress Caselotti.
Mary Costa and Princess Aurora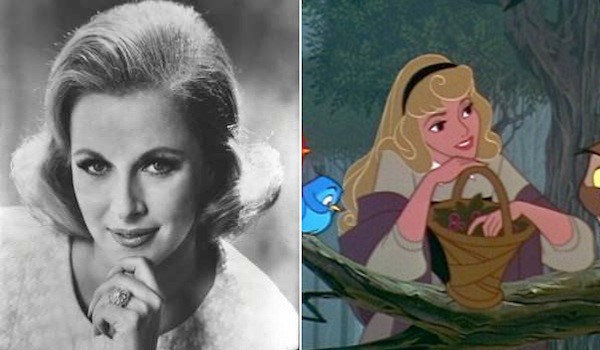 Another Disney Princess worthy of mention is American singer / actress Mary Costa.  She was the voice of Princess Aurora in the 1959 film, Sleeping Beauty.  She was featured in a few movies however was successful as an Opera singer.  She was even asked by Jacqueline Kennedy to sing in the memorial service for her husband, U.S. President John F. Kennedy.
Robby Benson and Beast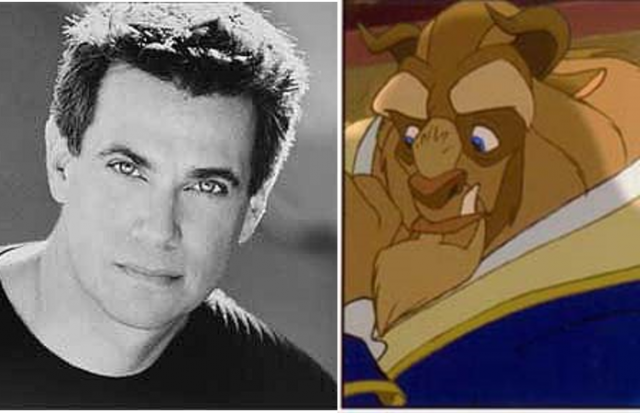 From beauty to the Beast.  You can definitely see where Beast of the 1991 movie Beauty and the Beast got his gruff look and piercing eyes.  Robby Benson started as a child actor but was well-known for his coming of age movies like 1972's Jory, 1973's Jeremy, and as Billy Joe McAllister in 1976's Ode to Billy Joe.  His biggest role will be voicing Beast, this role eventually led to other voiceover work such as reprising his role as Beast in the Kingdom of Hearts video game series and Prince Valiant in the cartoon series The Legend of Prince Valiant.  If Benson looks like the Beast back then, wait till you see him now.
Angela Lansbury and Mrs. Potts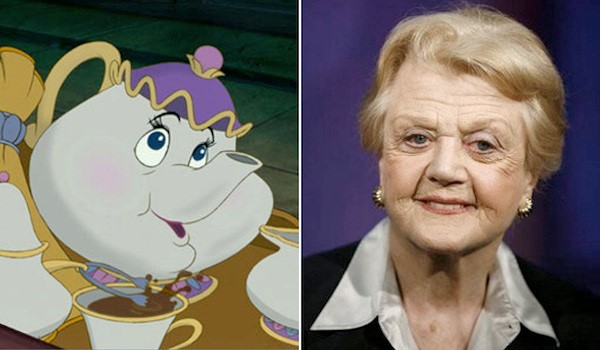 If there's another character in the Beauty and the Beast movie who bore resemblance to their voice actor, it is none other than Mrs. Potts.  Yes Mrs. Potts maybe a pot, but it is undeniable that she got her kind blue eyes, rosy cheeks and long lashes from Dame Angela Lansbury.  The Oscar and Tony award winning British-American icon went on to voice Mrs. Potts in a few more feature films and lent her voice to several other animation characters including her Annie nominated role as Dowager Empress Marie in the animated movie Anastasia.
Christopher Plummer and Charles F. Muntz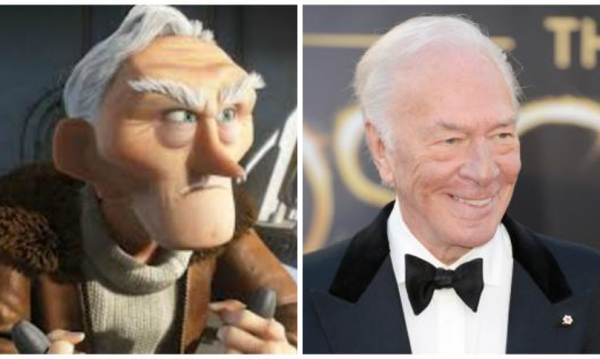 Ed Asner as the curmudgeonly character Carl Fredricksen will always be in anyone's character look-alike list, but we forget that there is another character in the movie UP who looks a lot like their character – Christopher Plummer as Charles F. Muntz.  Another icon in the industry, Plummer lent his voice to the 2009 hit movie as the old adventurer Muntz and to a few movies and a video game.
Will Smith and Oscar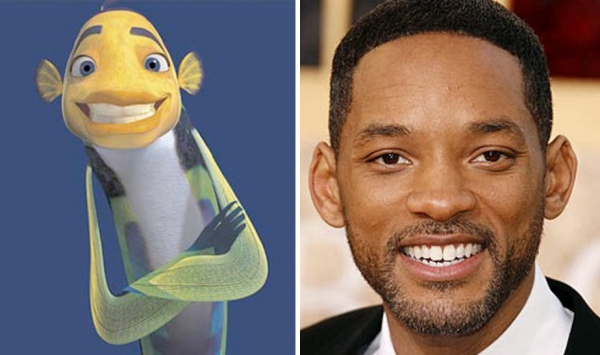 You don't need their photos to be side-by-side to figure out the resemblance – Oscar is Will Smith and Will Smith is Oscar – the smile is a dead give-away.  Smith starred in Shark Tale as the underachieving bluestreak cleaner wrasse worker Oscar.  Smith had several successes in the movies and television, but the Fresh Prince though still needs to follow-up his voice work after Shark Tale.
Zachary Levi and Flynn Rider / Eugene Fitzherbert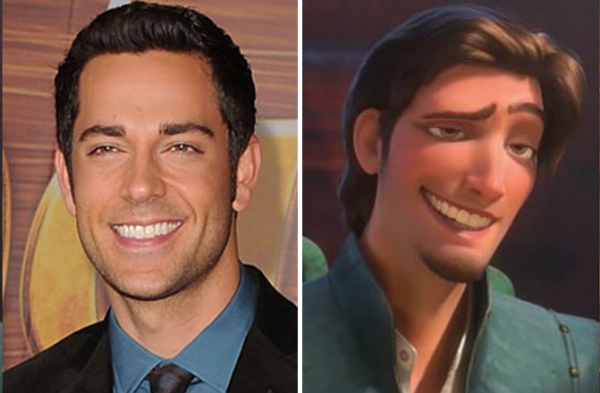 Zachary Levi is immortalised by his character Flynn Rider from the movie Tangled.  Levi started as a stage actor at a young age of six.  He later on made several television appearances before landing the title role in the television series Chuck.  His work with Tangled was his first entry into voiceover work.  He then worked in several movie and television voice projects and voiced in three video games including playing himself in Tomb Raider.
Steve Buscemi and Randall Boggs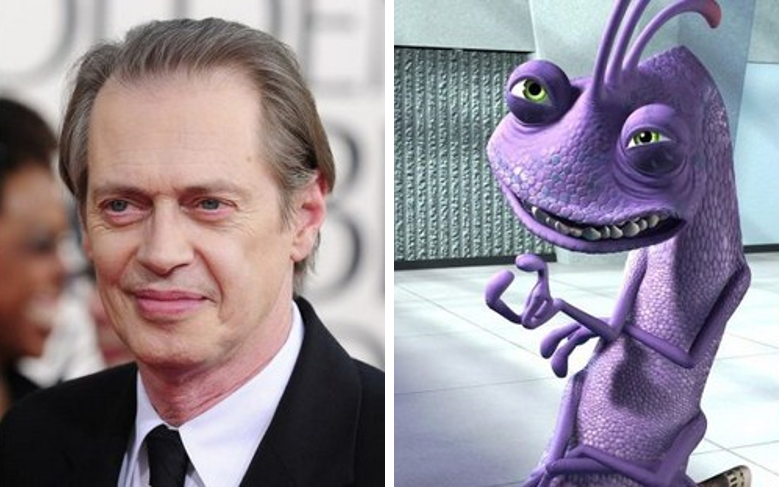 It is not just the eyes, it is also the grin that would make you go – ahh, it is Steve Buscemi.  The great character actor and director, brought voice to Randall Boggs, the multi-legged lizard monster in the movie Monsters Inc. back in 2001 and again in Monsters University in 2013.  He has done several other voiceover work in the movies including Final Fantasy: The Spirits Within, Charlotte's Web, Igor and Hotel Transylvania.
Robin Williams and Genie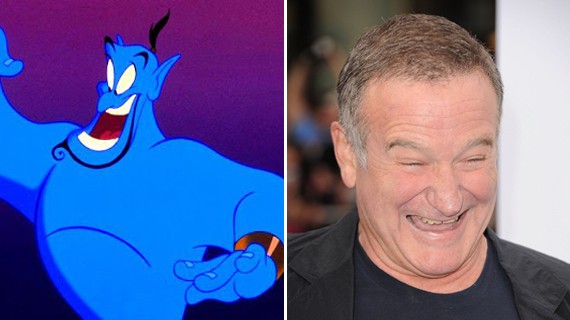 From a purple monster to a blue genie – Robin Williams is almost always everyone's favourite actor who looks a lot like his character.  Though he initially hesitated to do the role, not wanting to be part of the "toy selling" scheme that is part of all Disney movies, he eventually agreed with certain conditions.  His memorable performance as Genie paved the way for other star-powered actors to lend their voices in animated features.  Another memorable voice work for Williams was as Ramon / Lovelace in the Happy Feet movies.
There are a lot more that we can add to the list from different characters in the movies, animation and video games.  But who would be your 10th… share with us your favourite voice actor and character twinsies.