The Voice of Anna, Kristen Bell Surprises a Six-Year-Old Princess
Kristine Bell first gained popularity after starring in the title role on the televisions series Veronica Mars. She also has a lot of voice over credits under her belt, being the voice of Gossip Girls for 5 years, and the voice of Lucy Stillman in 3 Assassin's Creed video games.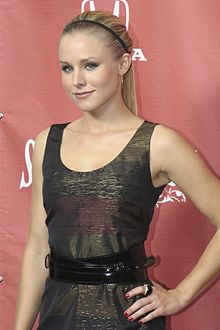 But Bell's name and voice became even more popular after playing the character of Princess Anna in the hit animation movie Frozen. It seems that every girl in the world has sang along with her as she sang "Do You Want to Build a Snowman" and "For the First Time in Forever". So what a glorious treat it would be for a young girl to hear Princess Anna wish her well!
That's exactly what happened to 6-year-old cancer patient Avery Huffman. Avery was unfortunately diagnosed with an inoperable brain tumor. In a blog site set up to share Avery's story, Kristen Bell found out about the little girl's condition and her love of Frozen. After getting in touch with Avery's parents, Bell arranged to leave a voice message that Avery will never forget.
In her voice character Anna, Bell tells Avery that since Avery has been a very good and brave girl, her sister Princess Elsa has proclaimed her an honorary Princess of Arendelle!
Watch the joy in Princess Avery's face in the video uploaded by her dad.
Kristen Bell is proof that a Disney Princess does not only have a beautiful face, a beautiful voice, but also a beautiful heart.
This is not the first time we have heard of a voice character share their voice to cheer up a young fan. Tom Kenny sent a voice message to 9-year-old cancer patient Julian Ross as his famous character SpongeBob Squarepants. Kenny shares then that being able to inspire in this way is "one of the amazing, unpredicted side effects" of voice over work.
---
Have you shared your voice to make someone happy recently? Share your story with us by commenting below