Pocholo Gonzales, Philippines' Voice Over Master
Like any country in Asia and Europe, the Philippines is rich with voice over work, mostly focused on dubbing projects in television, radio drama, and educational videos.
The Philippines is a pioneer in the movie and radio industry in Asia, with their first silent feature film shown in 1919 Dalagang Bukid (Country Maiden). And with the emergence of the First Golden Age of Philippine cinema in the 1940's and 1950's, grew the love affair of the Filipinos with anything entertainment.
Pocholo Gonzales is one of those Filipinos who got bitten early on by the acting bug – and in particular, the voice over kind.
Pocholo is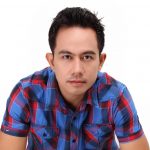 known as the VoiceMaster of the Philippines. He is a 20 year veteran voice artist and voice director, experienced radio broadcaster, internationally-awarded youth advocate, author, and a highly sought-after trainer and motivational speaker in his country. Pocholo shares with us how he got his start in the industry, and how throughout his career, has helped foster this same love for voice acting with aspiring voice over talents in the Philippines.
"My love for voice acting started when I was 7 years old, growing up in our humble home in Bataan, one of the provinces here in the Philippines. Back then, we didn't have television at home, and most people would be asleep as early as 7:00 PM because there wasn't much to do. Every night at 8:00 PM, I would listen to a radio drama called Gabi ng Lagim (Night of Doom). I started imitating the character voices I heard – little boy, Grandpa, monster – and I enjoyed it! Eventually, I practiced by imitating famous cartoon characters, personalities, and yes, even my grade school teachers."
At the age of 16, Pocholo started his professional voice acting career when he won a radio drama and singing contest in one of the country's top national radio station. "I bested 10,000 other hopefuls and became part of a group of young voice artists who performed a live radio drama every Sunday. Eventually, I became one of the program's anchor, scriptwriter and director. It wasn't long before I got into doing voiceover for commercials, dubbing for localized anime and foreign soap opera, and more radio drama."
"I believe that the Filipino voice acting talent is globally competitive…"
In his 20 years in the industry, Pocholo worked on numerous notable projects locally and internationally.
One that stands out would be his work with Biblica, the largest distributor of the Holy Bible in different languages around the world. "I am the voice of the Tagalog Audiobible. It is fulfilling to represent my vernacular in one of the worlds most widely listened to audiobook."
He was also the Voice Director of the first full-length animation film in the Philippines, Dayo: Sa Mundo ng Elementalia (Visitor: In the World of Elementalia). "I also voiced two monster characters in the movie. This film was memorable as it birthed a whole new genre in the film industry in our country, and it's a pleasure and an honor to become part of it."
Pocholo's voice can also be heard in various SEGA Games.
"I believe that the Filipino voice acting talent is globally competitive. In 2008, I presented the Filipino voices to the most popular gaming company, SEGA Games and I had the opportunity to voice and voice direct their arcade games such as "Harley Davidson King of the Road," "Golden Gun," "Venus Wiliams Flash Game," "Operation Ghost," and the ever-famous "Transformers.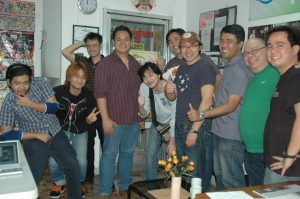 "Teaching is the noblest profession…"
His rise to success was not bereft of industry politics. He encountered a lot of frustrations and rejections, and been told that he was not good enough to be a voice over artist. But that experience ignited in him the vision to make the Philippines as the center of voice over excellence in Asia.
In 2005, he founded his own voice over company, Creativoices Productions. Creativoices Productions is not just the premier voice over company in the Philippines but also houses the first and only voice acting school in the country, the Philippine Center for Voice Acting.
"My mission in creating this school is to open the doors of the voice acting industry to all aspiring voice artists, and to promote voice acting as an art. I am proud to say that for 11 years, the school has produced more than 1,000 graduates. Hundreds of them are now establishing their own careers in the world of voice – as voice overs, hosts, broadcasters, and even as public speakers."
Pocholo has also shared his knowledge in voice over with not just aspiring voice talents but also with school teachers.
"I always believe that teaching is the noblest profession. Teachers stay in the profession because of their passion to hone young minds, and I can totally relate to that as a youth advocate. I wanted to do my share in helping teachers cope with the demands of the 21st century classroom, which has greatly changed since the previous generation. So in 2013, I created a training program called "Voice Acting for Effective Teaching" My goal was to teach teachers the basics of voice acting, storytelling and even gamification that they can use to effectively teach the students in their class.
"When I first conducted the training, one teacher approached me and asked, "This is great, but how can I (teacher) use my voice acting skills if I don't even have my voice to teach my class the next day?"
"That question brought me to the huge realization that there is no program for teachers here in the Philippines on how to take care of their voice. And as a professional voice user, I can totally relate since I know what it feels like to wake up with a painful throat, or to wake up without voice on a day when I have to teach class or do a recording.
"This realization was followed by several months of research and developing of my Voice Care for Teachers workshop. It is a 2-day workshop that includes voice care tips, vocal exercises, science of voice production and many more. The Voice Acting for Effective Teaching is also part of the program.
Pocholo published a version of the workshop "Voice Care for Teachers" which is also helpful for aspiring voice talents, singers, public speaker, and anyone who uses voice in their profession.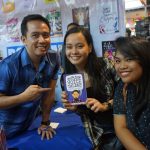 "To all aspiring voice talents out there… Believe that you can do it!
"Seek a good voice acting training. One of the myths I usually have to dispel amongst aspiring voice artists is the belief that all they need is a "good voice" in order to get into the industry. But it's like saying, "You have nice, long legs, you should join Ms. Universe!
"Voice acting is an art, and it is an ensemble of tools, techniques, skills, and even qualities that need to be honed, developed and practiced in order to make it in the industry. Learn from books, attend workshops, watch videos… get your hands on all the information you need in order to develop your voice. If you are serious about getting into voice acting, you must be willing to invest your T.E.A.M. – time, effort, ability and money.
"Get into voice acting ONLY if you're passionate about it. Most people salivate over the fact that voice acting can be a good way to make money. It could be true… I mean, who wouldn't want to earn a few hundred dollars for a few minutes' work, right? BUT, if you are only in it for the money, I can tell you right off the bat that you will not last long in this industry. Your passion will drive you to audition one more time after several rejections and frustrations. If you pursue voice acting as a passion, there's no easy or difficult project. Free or paid, you would not just do it… you would do it with heart.
"Believe that you can do it. I think one of my biggest contributions to the voice acting industry here in the Philippines is that I have helped so many aspiring voice artists to believe that they actually have a chance to get into a rather-elusive industry. I have even taken in many students as a scholar to the workshop (I paid their tuition fee) because I believe that every person has skills and talents that is hiding somewhere in them, and they just need the venue to discover and express those skills and talents."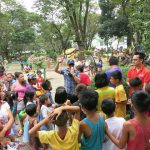 Pocholo Gonzales, truly deserves the title of VoiceMaster. He is an inspiration to not just voice over talents in his country, but to all talents who has the passion to pursue a dream.