Male Voice Talent, Mike Fugal. Voice Over Jobs,Industry & Career
Male voice talent Mike Fugal is the perfect voice if you're looking for a friendly voice for a corporate voice over narration, e-learning project, radio or TV commercial spot or any other application.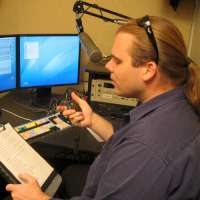 We caught up with him to pick his brain about the voice over industry and where he believes it's headed.
How long have you been doing voice overs? How did you get started?
My first venture into voice acting was as a kid making fake radio shows on my cassette recorder. I began my voice over career in earnest in 2007. I began my training with 40 year VO veteran Scott Shurian and 25 year Los Angeles voice talent Chris Thurmond. Having already worked in the film and video production industry in other capacities, I was fortunate to have contacts at many production houses that were willing to give me a chance on their projects. I eventually networked my way to agency representation and a career in voice overs.
What are some of the benefits from being a freelance voice actor and working from home?
Working as a voice talent from home is the best job I've ever had! You create your own schedule, the work is fun, and the pay is great! But it's also important to find out what you need to keep yourself productive. For example, you have to be your own supervisor and not let the freelance lifestyle make you complacent. You also need to self-direct your performances which can be difficult.
How is The Voice Realm different to other online voice casting sites you've seen?
In a time when so many online voice marketplaces have sprung up, The Voice Realm has created a unique and positive marketplace experience.
While other sites will accept and list anyone who has money to spend, The Voice Realm accepts only qualified, experienced, and professional talent who will give clients the performances their jobs deserve.
While other sites put your audition against literally thousands of others, The Voice Realm sends only a small group of hand-picked professional voice talent to a project.
While other sites allow talents to underbid each other and drive the cost of a voice over job down, The Voice Realm sets a price for a job and even shows the usage structure.
What's the quality of jobs like that you've seen come through the site? 
I've seen a variety of projects sent to my account. Corporate / Industrial narration, IVR, character pieces and more. In addition to the variety, the jobs themselves are often from big name companies and include worthwhile voice direction and sometimes links to examples of what kind of performance is desired. This is a big help when you're self-directing.
How about the assistance and support you've received from the site? 
The Voice Realm is very attentive to any questions posted on social media platforms. The application and submission process was also thorough yet simple.
Where do you see the future of the voice over industry going?
For so long, it seems that the world of voice over was limited to a small group of elites in Hollywood and was only available through primary market agencies. Now that the internet has changed the landscape of how people buy and sell VO, there is an incredible amount of new outlets to find voice work. And with the creation of new media less and less with the major agencies and more directly in the hands of creative people, I believe the opportunities in voice over will only expand.
What are some of the benefits you've found from being in control of which jobs you audition for?
It seems that when first starting out in voice over, the tendency is to audition for any and all jobs available.  After a while, you get a sense of the type of projects you wish to associate to your voice style. It's great that The Voice Realm has such a variety of projects that allow you to steer your voice career in the direction you want.
Hire male voice talent Mike Fugal now at The Voice Realm.