Hollywood's Golden Era Icon Lauren Bacall Dies at 89
In a Twitter account of Humphrey Bogart's estate, they confirmed the passing of Hollywood actress Lauren Bacall.  It read, "With deep sorrow, yet with great gratitude for her amazing life, we confirm the passing of Lauren Bacall."  Lauren Bacall passed away due to a major stroke at her home in New York morning of 12th of August, 2014.
Born, Betty Joan Perske, Lauren's breakthrough role at the age of 19 was opposite Humphrey Bogart in the film To Have and Have Not.  Her memorable role as the spunky yet tender Marie "Slim" Browning is still considered as one the best debut performances in film history.  She would later on star with her future husband Humphrey Bogart in three other films.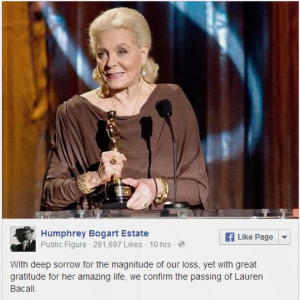 The sultry actress known for her husky voice, has graced Hollywood for seven decades starring in over 60 movies, also several stage, and television appearances.  Starting in Hollywood with four film noir in the 1940's, her career later on included credits to musicals, melodrama and art-house controversies.  And in 1999, she did her first voice role for Madeline:  Lost in Paris as the scheming Madame Lacroque.  She followed that up with the American release of Studio Ghibli's hit Howl's Moving Castle (2004), lending her voice to the Witch of the Waste.  She would later on voice several other characters in both film and television, quite recently in the animation film Ernest & Celestine (2014) and the TV series Family Guy (2014).
Lauren Bacall earned several nominations and awards, including two Tony Awards for her leading role in Applause (1970) and in Woman of the Year (1981).  Her notable performance in The Mirror Has Two Faces (1996) got her the Best Actress in a Supporting Role honour from SAG and Golden Globe.  She received a Cecil B. DeMille Award for Career Achievement in 1992 and an Honorary Academy award in 2009.
The movie and voice over industry still mourning over Robin Williams death has lost another icon in Lauren Bacall's passing.  Her legacy, both personal and professional, will always be as remembered. Lauren Bacall is survived by her three children: Stephen Bogart, Leslie Bogart, and Sam Robards.