Andy Serkis Debuts in Volume's Enemy Reveal
It can't be denied that Andy Serkis is the premier performance capture artist today, so it is interesting to know how an indie game developer Mike Bithell scored the British actor to participate in Bithell's latest game.
In an interview with Gamasutra, Bithell shared how he got his dream actor to play the villain Gisborne in his latest video stealth game – Volume.  "I knew I wanted a larger than life villain, someone who would fill the game out," Bithell shares, "so I knew I needed someone of Serkis' gravitas.  Getting Hollywood actors is pretty much just a scaled up version of getting any voice actor – conversations with agents, sending over scripts, and if the times and interests align, you have a cast member."  So it took a letter and a bit of help from a casting studio to get Serkis to say "Yes".  It also helped that Bithell had experience in the VO industry and a much recognised video game to back him up.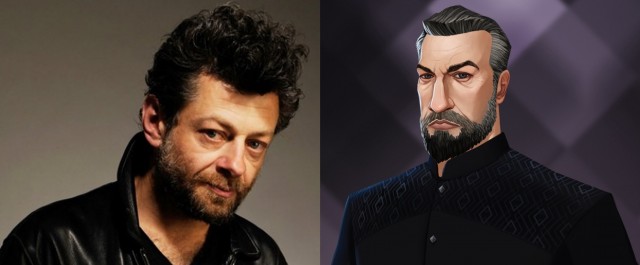 Bithell hit it big with his indie puzzle platformer video game Thomas Was Alone.  The game earned him positive reviews from the critics; lauded him for his use of narration to build the characters of his simple shaped characters.  Thomas Was Alone was nominated for the Story and Soundtrack Categories at the 9th British Academy Video Games Awards.  The game narrator, Danny Wallace, a British actor and presenter, won in the BAFTA Games Award for his performance. And in Independent Games Festival in 2013, the game was an Honourable Mention in the Audio category.
It may again be the same for Volume – a very well thought, complex and fascinating writing.  Maybe this alone had convinced Serkis to accept the role.
The Robin Hood inspired stealth game also stars Danny Wallace as the AI Alan and English Vlogger Charlie McDonnell as the main character, master thief Rob Locksley.
We now have a sneak peek of into the world of Volume – offering game players a glimpse of the game's diverse group of enemies, and a taste of Serkis' voiceover performance and the enthralling and beautiful score.
It would be interesting to see how the story plays out and see what attracted Serkis to join this project.  And as he teased, "They will be with you very, very soon."
Volume is scheduled to be released this year on PlayStation 4, Vita, PC and Mac.